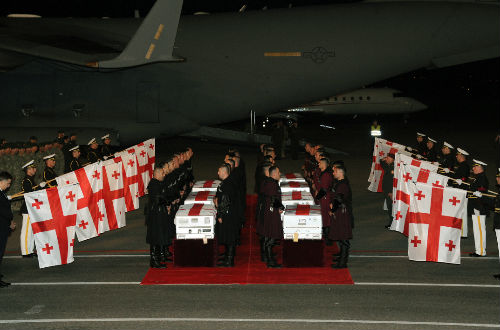 The U.S. air force aircraft, carrying the seven Georgian soldiers' coffins, landed in airport in Tbilisi in early hours on Sunday. Georgian MoD photo
The bodies of the seven Georgian servicemen killed in a truck bomb attack in the southern Afghan province of Helmand on June 6 were flown back to Georgia by U.S. air force aircraft in early hours of Sunday.
Defense Minister Irakli Alasania, who arrived in Afghanistan after the June 6 attack – the deadliest one against Georgian troops in Afghanistan – returned back to Georgia on board of the same aircraft.
Fallen soldiers' family members, President Saakashvili, parliament speaker Davit Usupashvili and several cabinet members, as well as representatives from the foreign diplomatic corps were in the Tbilisi airport attending repatriation ceremony.

Public service for fallen soldiers will be held in the Holy Trinity Cathedral in Tbilisi on Sunday evening.
Nine Georgian soldiers were wounded in the June 6 attack; seven of them have been discharged from the hospital and two others were flown to Germany for further treatment, according to the Georgian Ministry of Defense.
The recent attack brought total death toll of the Georgian soldiers in the ISAF mission to 29; at least 120 Georgian soldiers were wounded in Afghanistan.