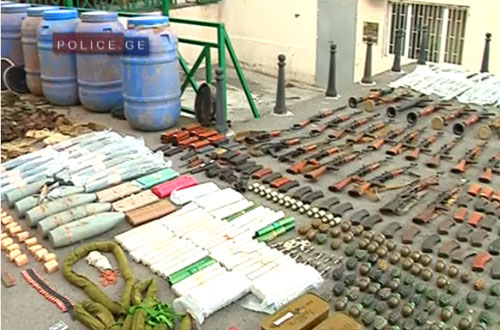 A screengrab from the Interior Ministry's video footage showing weapons, which the police say, were unearthed from an underground cache in the Samegrelo region in western Georgia.
A large arms cache was unearthed in western region of Samegrelo, which was hidden under "the direct supervision of former high ranking officials of the interior ministry during the previous authorities," the Georgian Interior Ministry said on June 17.

Underground cache included "large amount of explosives and explosive devices; hand grenades; firearms and other weapons and military munitions; communications gear, as well as large amount of narcotics and psychotropic medicines including heroin, opium, cocaine, subutex etc," the Interior Ministry said in a statement.
Video footage released by the Interior Ministry shows about two dozen of Kalashnikov assault rifles; at least seven RPG launchers; over 90 hand grenades and other munitions and military gear, which were supposedly stored underground in plastic barrels.
The Interior Ministry said that the cache also included video tapes showing "brutal torture, sexual abuse, beating and inhuman treatment of individuals by representatives of the law enforcement agencies."
The Interior Ministry said that cache also included records and files, containing photos and private data of some of those individuals who were in the opposition to the previous authorities and "whose arrest was planned in case of victory of the United National Movement party in the October 1, 2012 parliamentary elections." The ministry said that some of these files were handwritten making it possible "to promptly identify and arrest" those who compiled these records.
The Interior Ministry, which did not specify an exact location where the cache was found, said that unearthing of this storage helped "to prevent an especially grave crime directed against the state and public security."