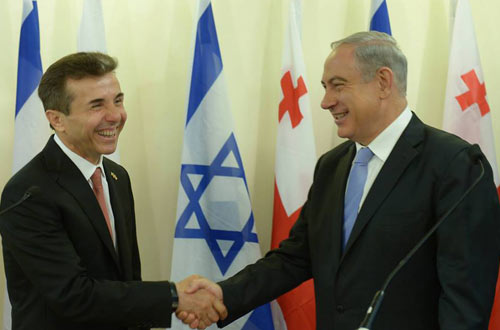 Georgian PM Bidzina Ivanishvili (left) and Israeli PM Benjamin Netanyahu (right) meet in Jerusalem on June 25. Photo: Amos Ben Gershom/Israeli government's press office
Georgian PM Bidzina Ivanishvili met his Israeli counterpart, Benjamin Netanyahu, in Jerusalem on June 25 and said that he was willing to make relations between the two countries "ideal" and "exemplary."
PM Netanyahu said in remarks for the press before the start of the meeting that the two countries had "great relations", adding that Israel was willing "to expand" these ties.

"I've been looking forward to our meeting," the Israeli PM told his Georgian counterpart.
"It will be an important step in continuing the great relationship between Georgia and Israel. We want to expand this relationship in every way – in trade, in agriculture, in cultural exchanges, and I would say strengthening and building on the human bridge between our two societies. We have a very proud community of Jews that came from Georgia, that have been there for thousands of years, and in addition, we have the modern states that have a deep and instinctive friendship between us," PM Netanyahu said.
"We all want to see security and stability and peace in our area, and there are great challenges that come from Iran and from many other convulsions in our area. I look forward to talking to you about that as well," the Israeli PM said.
PM Ivanishvili said: "You are quite well aware that the friendship between the Georgian and the Jewish people is lasting for more than twenty six centuries. We are obliged to use the potential, which has been left by this multi-centaury friendship and we have to establish ideal relations, exemplary for rest of the world,"
"We love and appreciate the Jewish people and the State of Israel, and our country and our people are looking forward and sparing no efforts for deepening friendship with Israel," the Georgian PM said.
"First and foremost we will look into economic issues; Israel has a huge experience in agriculture development and we are going to actively cooperate with [Israel] in this sphere," he said and added that he was willing to launch working on trade agreement between the two countries.
He also said that Israel "has been trying for centuries to gain peace" and Israel "of course deserves" this peace.
Ivanishvili also added, that along with economy, he was looking forward discussing security issues with the Israeli PM.
"I think we will be able to deepen our relations in many directions," Ivanishvili said and his Israeli counterpart responded: "We share a common dream."
Georgian Foreign Minister, Maia Panjikidze, who accompanies the PM on his visit to Israel, said on June 24 that "broad range of bilateral issues" was planned to be discussed during the meeting between the two Prime Ministers.
"Cooperation in the defense sphere might be touched upon, but it will in no way be related to arms procurement [from Israel] or something like that," Panjikidze said on June 24.
PM Ivanishvili is also accompanied by Minister of economy Giorgi Kvirikashvili; State Minister for Diaspora Konstantine Surguladze; PM's adviser Gia Khukhashvili and head of the Georgian National Investment Agency Giorgi Pertaia.
Also on June 25, the Georgian delegation met Knesset speaker Yuli Edelstein. PM Ivanishvili met President Shimon Peres on June 24.