Rasmussen: 'We follow arrests of ex-govt officials with great concern';
Rasmussen: 'Govt assured me that prosecutions will live up to respect for the rule of law';
Saakashvili: 'We are going through very difficult phase' in terms of rule of law;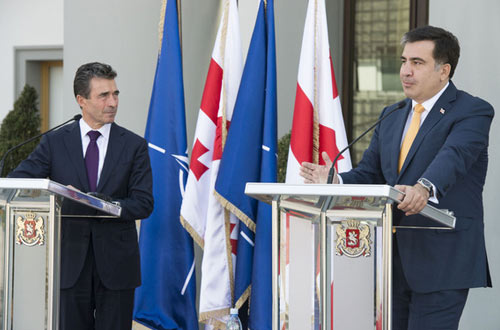 NATO Secretary General Anders Fogh Rasmussen (left) and President Mikheil Saakashvili at a joint news conference in Tbilisi, June 27. Photo: NATO
President Saakashvili said after meeting NATO Secretary General, Anders Fogh Rasmussen, that although Georgia was now facing problems with democracy and rule of law, the country would overcome difficulties and join the Alliance.

"It is often said that Georgia's NATO membership is being very much dragged out; there is kind of propaganda now that NATO is like a horizon – becoming more distant as you get closer. That's not the case. Each and every visit of the NATO Secretary General and the North Atlantic Council… demonstrates Georgia's more integration to [NATO]," Saakashvili said while speaking at a joint news conference with the NATO Secretary General.
The NATO Secretary General said at the news conference after meeting with Saakashvili that Georgia "is in so many ways a model partner", which carries out "important reforms" and remains committed to democracy and NATO membership.

President Saakashvili said that during the meeting internal political developments were also discussed, including issues related to rule of law and mentioned in this context arrest and then release of 23 officials of the Tbilisi municipality earlier on June 27, which President Saakashvili's UNM party said was part of the government's campaign of pressuring the opposition.
"We spoke very openly and frankly about the issues related to rule of law, human rights and democracy in Georgia. I think it is a very difficult moment for Georgia in this regard. In a long-term perspective Georgia will overcome all the difficulties and of course we will become NATO members… but now we are going through a very difficult phase as we are facing serious, problematic issues," Saakashvili said.
Asked about arrests and legal proceedings against officials from the previous government, the NATO Secretary General responded: "I want to make clear, that we follow recent arrests of former government officials with great concern."
"I have in my conversations with representatives of the government stressed that we expect Georgian authorities and Georgian courts to fully respect the fundamental principles of rule of law and ensure due process," Rasmussen said.
"Let me stress that we are not going to interfere with these judicial processes, but it is crucial to avoid even the perception that these judicial processes are politically motivated. The government has assured me that such prosecutions will live up to respect for the rule of law, people will be ensured due process, the processes will be fully transparent and we would expect Georgian authorities and Georgian courts to live up to those basic principles,"
"I say this in very strong terms because while NATO is a military alliance, we are much more than that – NATO is also a community of values," he said. "And for aspirant countries it is absolutely crucial to fully live up to and respect these principles."
Responding to the same question, President Saakashvili said: "You've heard the Secretary General's remarks that he expresses great concern over these processes."
"You've seen public statements by the EU foreign ministers in which they warn us and say that Georgia and Ukraine are the two countries which are problematic," Saakashvili said.
He was referring to remarks by Polish Foreign Minister, Radosław Sikorski, who said on June 24 after the EU foreign ministers' meeting in Luxembourg where the Eastern Partnership was also discussed, that Georgia and Ukraine were two countries "where we are worried."
Saakashvili also added: "I want to remind you that the same ministers were saying two years ago that Georgia was a leading country in terms of EU integration."
He said that now Georgia was downgraded. "We were a leading country, we were praised everywhere… and we were a model country, an exemplary country and now we have been flagged as one of the most problematic countries in terms of European integration," Saakashvili said.
In his opening remarks during a meeting with ambassadors from the North Atlantic Council, Saakashvili against raised the issue of arrest of former officials and said that former interior minister and ex-PM Vano Merabishvili, who is secretary general of UNM party, "is sitting in jail even before he is judged on any specific crime."
"This is a very abnormal situation in democracy," Saakashvili said. "I hope the government will not pursue on this path because it would endanger our democracy, our goals… and our trans-Atlantic future and that's last thing we would want."
Before wrapping up the two day visit to Georgia on Thursday evening, the NATO Secretary General addressed the Georgian troops, who are preparing for the Afghan deployment.