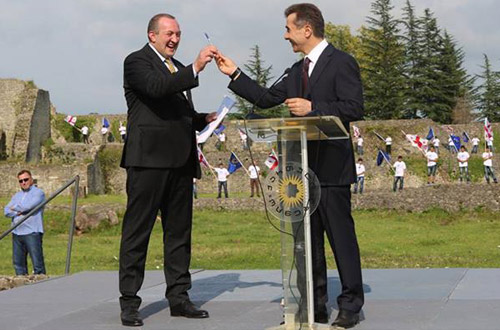 PM Ivanishvili (right) gives his pen to GD's presidential candidate Giorgi Margvelashvili (left) as a present and tells him that he used this pen ahead of last year's parliamentary elections. "It will definitely bring a victory to you," the PM told Margvelashvili. Photo: PM's press office
Georgian Dream's presidential candidate, Giorgi Margvelashvili, formally kicked off his campaign on August 12 from the ruins of ancient citadel in Nokalakevi in western Georgian region of Samegrelo.
At an outdoor campaign rally in presence of PM Ivanishvili, government ministers, GD lawmakers and supporters, Margvelashvili said that he "will fight for every single vote and I will win" in this presidential election set for October 27.
"I promise to win because I have a hope in political wisdom of the Georgian nation," he said.
PM Ivanishvili said that Nokalakevi was chosen as a venue for the launch of the campaign because it "is regarded to be a symbol unity of our country".
"For the first time in Georgia's history, Georgia will have genuinely intelligent and European President," said PM Ivanishvili, who describes Margvelashvili as one of his closest friends.

He said that by naming Margvelashvili as a presidential candidate "we are destroying an entrenched stereotype in Georgia that the president should be a superman and everyone's patron, who will decide everything instead of us."
"It's not like this in Europe and we also should destroy this ugly stereotype," the PM said. "Giorgi Margvelashvili is a brave and independent man, who never shuns away from bold decisions."
"Although he has been close to politics, no one will be able to say that he has ever been part of political intrigues; he is not a member of any political party and I am sure that our future president will be a defender of everyone's interests," Ivanishvili said. "I hope with this presidential election we will pass yet another test to convince everyone that we represent the government capable of holding free and fair elections."
In his speech at the campaign event in Nokalakevi, Margvelashvili said that over the past nine months "our government together with the Georgian people passed through something, which might be very difficult even for many democratically more developed countries – that is political cohabitation."
"In this process we managed to bring the political cycle to its end," he said. "On October 27 cohabitation will be over and the country will no longer have the President whose goal is to discredit the country, to meddle in the judiciary, to impose absurd vetoes [of bills] and actually to sabotage processes."
"It will be over on October 27," Margvelashvili said.
"I will be the president who will be permanently engaged in cooperation with the society… who will be government's partner in implementing of those reforms, which this government has started; I will be the president, who will be Bidzina Ivanishvili's partner in making the Georgian dream come true," he said.
Margvelashvili also said that democratic and economic development of the country "is a cornerstone of Georgia's territorial integrity."
"Restoration of relations with our Abkhaz and Ossetian brothers is only possible in this context and it is a prerequisite for [restoration] of our country's territorial integrity," Margvelashvili said.
"Euro-Atlantic integration is a choice of the Georgian people and naturally we remain committed to this course," he said.
He said the current government demonstrated that "a cliché according to which it is impossible to move towards Europe without having extreme tension with Russia is a lie."
"We have change this cliché. We started normalization of relations with Russia without sliding back, not a whit, on the course of Euro-Atlantic integration; the same course will be maintained in the future as well," Margvelashvili said.
He also said that leader of the GD parliamentary majority group, MP Davit Saganelidze, would lead his campaign headquarters.