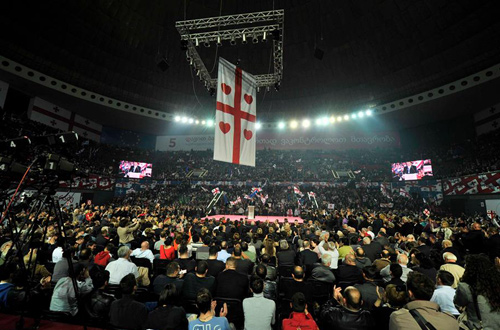 President Saakashvili addresses supporters at UNM convention in Tbilisi Sports Palace, October 5. At the convention Saakashvili presented UNM's new flag, which is a variation of the Georgia five-cross national flag (which before it was adopted as national flag in 2004 served as UNM's flag), but instead of four crosses in corners, the flag has four heart symbols. Photo: president's administration
Outgoing President Mikheil Saakashvili has been re-elected as United National Movement's (UNM) chairman at the party's congress in Tbilisi on October 5.
Vano Merabishvili, former prime minster and interior minister who is in pre-trial detention facing multiple criminal charges, was re-elected as the secretary general of the UNM.
UNM introduced new political council as the party's main decision-making body, chaired by presidential candidate and parliamentary minority leader, MP Davit Bakradze.
UNM's pre-election convention, held in the Sports Palace, also endorsed party's new regulations, which, as UNM say, provides "more democratic mechanisms, transparency, decentralization" in decision-making process, as well as election, instead of appointment, of heads of party's regional branches.
Saakashvili, who has been UNM's leader since the party was founded in 2001, told the convention that despite of "many illegal actions by the government, the United National Movement has survived, transformed and presented itself in a new form today in this hall."

"Survival of the National Movement is incontrovertible sign that… Georgia has moved on to new, real European stage of development. This is the first case since independence when the ruling party voluntarily goes from government and does not disappear after losing governmental levers," he said.
Saakashvili said that when conceding UNM's defeat in the October 1, 2012 parliamentary elections he was in a bad mood, but at the same time felt optimism as well.
"I told myself – this is not the end; this is the start for a comeback," Saakashvili said.
He said that he wants UNM to return back into power "without having any aggression, hatred and desire for revenge".

"When we return, no one should have a perception that they may become victims of political persecution," Saakashvili said.
"The second democratic transfer of power – and it will happen much sooner than they think – should mark the stage of eventual end of enmity," he said.
When speaking about internal frictions, saying that infighting within the country may result into losing of the statehood, he evoked history and mentioned 11th century Georgian King Bagrat IV, who, he said, made many enemies among nobility because of his "ambitious reform and modernization" agenda. Saakashvili said it was then when Georgia got its first lesson from having relation with "coreligionists, but insidious" neighbor; he said that one of the senior Georgian Orthodox clerics paid "a shameful visit" to the Byzantine emperor to pledge his loyalty and help in "invading Georgia."
Saakashvili, who was the last speaker of the convention, said in the beginning of his half an hour speech that this gathering was about demonstrating "our firm support… to our presidential candidate and my friend, Davit Bakradze."
"Dato's candidacy is very important in terms of our perspective. I want us to ask a question… should the Georgian President be a puppet of any country, especially of an invader country, a puppet of a wealthy man, or it should be an independent person and a thinker. I addressed UN [General Assembly] last week and I want us to ask a question: who out of the [present presidential] candidates should be addressing UN General Assembly's next five sessions, they or this man [Bakradze]?" Saakashvili said.
In his address to the party's convention, Bakradze said: "Today UNM is renewed and strengthened."
In the speech Bakradze reiterated main topics of his campaign, saying that new president should be providing oversight over government's policies and criticized the Georgian Dream coalition for "dozens of unfulfilled" pre-election promises.
"Dream does not work my friends, promises are not being delivered and we all see it," he said.
He also said that UNM should assess past "objectively" and added that it should be proud of many achievements made during its time in power, but at the same time it should also come to grips with past mistakes.
"I am often asked: 'if we vote for your, will it be a return of the same old National Movement?' Strength of the UNM is in its desire for renewal; we bring our patriotism and energy from the past, but leave behind in the past everything that the public thinks are mistakes."