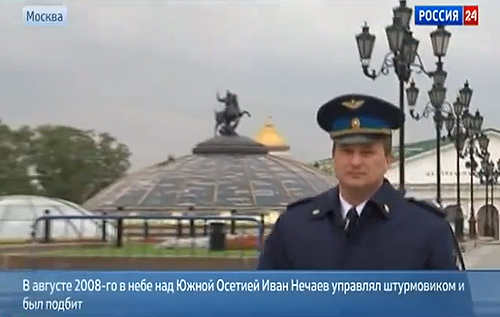 A grab from Russian state-run Rossiya-24 TV channel's October 3 news broadcast about Russian military pilot, Ivan Nechayev, who received Russia's hero award for his role in the August 8 2008 war with Georgia and who was one of the Olympic torchbearers in Moscow on October 6, prompting debates in Tbilisi about Georgia's participation in the Sochi Olympics and giving upper hand to those who are in favor of boycott.
Georgian government is facing growing calls for boycotting 2014 Winter Olympic Games in Sochi, but officials from the governing coalition say such a move now would be an overreaction to Russia's provocations fraught with more risks.
A campaign for boycotting the Sochi Olympics, spearheaded by two Tbilisi-based watchdog groups, Transparency International Georgia and International Society for Fair Elections and Democracy, was launched on October 8 and at this stage involves an online petition, which as of late Wednesday evening generated signatures of over 7,000 citizens.
Intense debates about Georgia's participation in the Sochi Olympic Games were prompted after Russia's decision to make its military pilot, Ivan Nechayev, who received hero's award for safely landing damaged aircraft during the August 2008 war with Georgia, as one of those 13,990 torchbearers, who are part of a 123-day Olympic torch relay across Russia before it reaches Sochi in February. Nechayev was among those ten torchbearers who passed the flame around the Kremlin on October 6. Many in Georgia, including some government officials as well, note that although Nechayev was one among thousands of torchbearers, he was the one who was given publicity in news broadcasts of Russian state-run TV channels – the move, which was perceived in Tbilisi as Moscow's deliberate jab at Georgia.

The online petition says that Russia's ongoing efforts of installing fences across the administrative boundary line with breakaway South Ossetia, further dividing communities, coupled with the military pilot torchbearer "serves to further insult our country."
"We believe that expressing protest to the Sochi Olympic Games would be an appropriate step and response by the Georgian authorities to Russia's negligence of international norms and its commitments," the petition reads, adding that the boycott would also be "a message to the international community that the Georgian authorities will never tolerate occupation of the Georgian territories by Russia."
According to late August public opinion poll, commissioned by NDI, 76% of respondents approved Georgia's decision to participate in the Sochi Olympics; 11% disapproved and 13% did not know. It is not clear how, if at all, the recent developments changed public opinion over the issue.
The Georgian government said in a written statement on October 7 that it will take "appropriate decision" if Russia "excessively politicizes" Sochi Olympic Games.
State Minister for Reintegration, Paata Zakareishvili, says that Georgia should not overreact to Russia's "provocations" aimed at undermining Georgian government's "pragmatic and calm" policy towards Moscow.
Speaking at Georgian Public Broadcaster's talk show on October 7, Zakareishvili said that Russia is now failing to trigger Georgia "impulsive" response, something, he said, Moscow was "easily achieving" in respect of the previous government.
"What gets Russia irritated the most of all is our pragmatic, calm policy," he said.
What the Georgian government calls "pragmatic" policy, President Saakashvili and his UNM party denounce as policy of appeasement, which, they say, makes Russia even more aggressive, demonstrated in intensified 'borderisation' across breakaway South Ossetia's boundary lines, involving shifting of "occupation line" deeper into the Tbilisi-controlled areas.
On the question whether to participate or not in the Sochi Olympics, Zakareishvili said that Georgia was facing "a choice between bad and worse."
"And we choose bad in order not to get worse," he said. "If we say no to participation in the Olympics, if we say no to cooperation [with Russia] in the context of the Olympics, we will untie Russia's hands allowing it to put blame on us" if something goes wrong during or in lead up to the Olympics, Zakareishvili said. "If we are not participating in the Olympics, what do you think at whom will Russia point the finger in case a terrorist act there?"
"Our task is not to yield to Russia's provocations, which [Moscow] can then use against us,"
He said it was a provocation by Russia to name its military pilot, who received hero's award for his role in the August war, as one of the torchbearers and to then make publicity out of it through its TV channels; but, he continued, it would be an overreaction to boycott the Olympic Games for that particular reason. He, however, also said, echoing the government's statement, that Tbilisi will keep a close eye on developments related to the Olympics and will take appropriate decisions if the trend of "politicization" of the Olympics continues.
Zakareishvili said that Georgia will have to withstand "cascade of provocations", expected from Russia in coming months and beyond, especially in the context of the EU Eastern Partnership Summit in Vilnius in late November and then 2014 NATO summit in the UK.
Georgia was itself competing for hosting 2014 Winter Olympic Games in Borjomi and Bakuriani. But after Georgia's bid was eliminated, President Saakashvili said in February, 2007, that Georgia would support Russia's bid to hold the Olympics in Sochi.
Saakashvili said in February, 2011 Georgia supported "openly and with huge enthusiasm" Sochi's bid, "because I thought that it would have helped us avoid those negative trends which were already obvious at the time, especially in respect of Abkhazia."