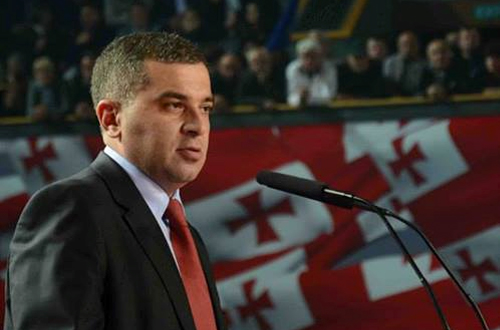 Photo: Bakradze's campaign team
Davit Bakradze, 41, is a presidential candidate nominated by outgoing president Mikheil Saakashvili's UNM party.
Leader of the UNM parliamentary minority group, MP Bakradze was parliament speaker in 2008-2012.
Bakradze, who holds degree in physical and mathematical sciences and MA in public administration, served in the Georgian Foreign Ministry in 1997-2002 before joining the National Security Council. He was a lawmaker from UNM party from 2004 before being appointed as state minister for conflict resolution issues in 2007; he then served as foreign minister for few months in 2008 before returning back into parliament as its speaker.
Bakradze, who according to recent polls enjoys the highest favorability rating among opposition politicians, was selected as UNM's presidential candidate through internal party election, primaries.
His campaign slogan is "Let's Control the Government Together" - 'control' in a sense of scrutinizing and overseeing government's policies and actions, suggesting that the new president, whose powers will be significantly cut under the new constitution, should serve as an efficient tool of providing checks and balances of the government and PM.
Among his campaign talking points are criticizing Georgian Dream government for a failure to deliver with its promises voiced ahead of 2012 parliamentary elections. "Dream does not work" is a slogan of UNM's negative TV ad campaign against GD in which UNM targets GD's "unfulfilled" promises.
In his campaign speeches Bakradze often raises the issue of the need for UNM to assess the past "objectively"; he says the party should be proud of many achievements made during its time in power, but at the same time it should not shun away from past mistakes.