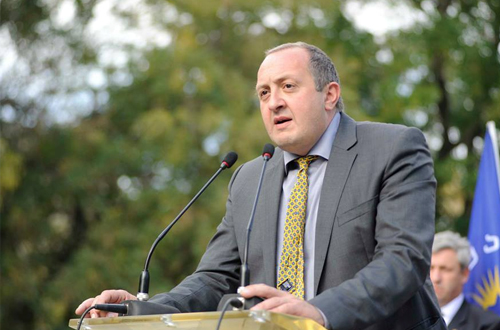 Photo: Margvelashvili's campaign team
Giorgi Margvelashvili, 44, the ruling Georgian Dream coalition's presidential candidate is a frontrunner in the upcoming election, according to all the recent public opinion polls.
In early 1990s Margvelashvili, who holds doctoral degree in philosophy from the Tbilisi State University, worked as a mountain guide at travel agency, Caucasus Travel; he joined National Democratic Institute's Tbilisi office as a program consultant in 1995 and worked there before becoming a rector of the Georgian Institute of Public Affairs in 2000 - the post he held till 2006 and then again in 2010-2012.
He has never been a household name in Georgia, but was a familiar face in political circles.
Margvelashvili first became directly involved in the politics, although briefly at the time, ahead of the November, 2003 parliamentary elections, when Zurab Zhvania and Nino Burjanadze invited him in their party which was called "Burjanadze-Democrats"; in the party-list Margvelashvili was in the top ten candidates of proportional vote in November, 2003.
But after the Rose Revolution, which followed fraudulent November 2003 elections, which also resulted in repeat parliamentary vote, "Burjanadze-Democrats" merged with Mikheil Saakashvili's United National Movement party and Margvelashvili quit the politics.
In 2008 he joined Nino Burjanadze's "think thank" foundation after the latter quit UNM and also served as her advisor. Burjanadze, who is now Margvelashvili's one of the competitors in the presidential race, says that Margvelashvili has not enough experience and competence to be a good president.
Margvelashvili was not directly involved in GD's election campaign in 2012 and he is not a member of any political party; he, however, was a frequent commentator on political affairs, supporting Ivanishvili and his coalition. After the October, 2012 parliamentary elections, Ivanishvili invited Margvelashvili in his cabinet as education minister and later promoted him to deputy prime minister's post after demoting from this position defense minister Irakli Alasania. At the time of his nomination as presidential candidate, in public opinion polls Margvelashvili had much lower positive performance rating than many other cabinet ministers. Margvelashvili has been campaigning actively with PM Ivanishvili also appearing by his side during number of campaign meetings, as well as in TV political ads. Margvelashvili is often saying in his campaign speeches that the October 27 will mark the "end of political cohabitation" – meaning the end of a period when, as he says, the presidency and the government will start working hand in hand to tackle challenges.
Margvelashvili's announcement on October 17 that he will withdraw from the race in case of the runoff raised eyebrows, giving the race a new twist.
His announcement came after PM Ivanishvili said earlier on the same day that in case of Margvelashvili's failure to win outright in the first round, he would advise him to pull out from the race and not to run in the second round. Although parliament speaker Davit Usupashvili downplayed remarks as "metaphor" which should not be taken literally, Margvelashvili reiterated on October 18 that he is absolutely sure about winning in the first round, but will withdraw from the race in case of the second round.