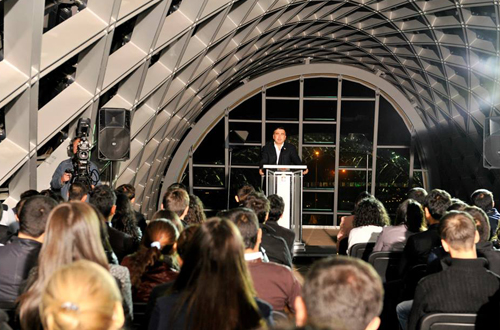 President Saakashvili addresses a group of students on October 24. Photo: president's administration
Sunday's presidential election is "not the end of life", outgoing President Saakashvili told a group of students on October 24 and said that "more interesting and much more important" struggle is starting in which "we will definitely win".
"I and Prime Minister Ivanishvili are from different planets, or to put it more correctly, I am from this planet, from this country… I have nothing in common with him. We represent two different Georgia," he said during a televised meeting, held in unfinished huge tube-shaped building in downtown Tbilisi's Rike Park.
"He represents Georgia of the past and I represent, together with you, Georgia of the future," Saakashvili told the students.
Saakashvili, who was re-elected as chairman of UNM, the party he founded over ten years ago and which was in power till last year's parliamentary election, said that the incumbent government will soon be replaced by the new one.
"New constitutional system will be introduced in Georgia after the presidential elections and the government has not yet realized how protected it was over the past year, because it was still the presidential republic; I handed over all the powers to them and the Parliament was not able to actively interfere in their activities. As soon as the new constitution enters into force, the Parliament, both the majority and minority groups, will interfere in the government's activities on a daily basis. It has never happened in Georgia before," he said.
The new constitution, which will go into force after a newly elected president is sworn in, will significantly increase PM's powers at the expense of those of president.
"An unimaginable hell is awaiting this government – because of such a constitutional framework, and the same is awaiting any succeeding government, which, I am sure, will replace the incumbent one very quickly," he said.

"Therefore, not only we are not finishing our struggle, moreover, more interesting and much more important stage of this struggle is starting and the main actor of this struggle, unlike during the Rose Revolution – and I can now say it openly that the youth was not the main actor of the Rose Revolution – will be the Georgian youth,"
He said "struggle for Georgia" is no longer taking place on battlefronts.

"It's here, the ideological struggle is underway within [the country] to determine Georgian identity – on the one hand there is Putin's version of Georgian identity, where we will be divided on religious and ethnic grounds to then pit us against each other; and the united Georgia, on the other hand, where we all will agree on main issue and nobody will ever be able to turn us back [into the past]," Saakashvili said.
"The difference between me and Prime Minister Ivanishvili is similar to the one that is between my visions and those of President Putin," he said. "I wanted free Georgia and this is what I want now, but Putin does not want this. Ivanishvili said he wants the society which he can rule from backstage, from above. I want the society which will be free and which will rule itself. My visions are as incompatible with the visions of Putin, as with the visions of Ivanishvili, because I boundlessly trust in freedom and in the future of Georgia – this vision has no alternative."
"This struggle has started for these upcoming elections, but will continue after these elections, everything is still ahead and we will definitely win in this struggle – I am absolutely sure about that," Saakashvili said.
In an obvious reference to ruling Georgian Dream coalition, he started his speech by reciting a late 19th/early 20th century Georgian poet and writer Vazha-Pshavela, saying that "dream makes brain dull and distracts from work." He said that he partly distances himself from these words as he does not think that the majority of Georgian people is a fool or lazy.
PM Ivanishvili said on Saakashvili's remarks that the outgoing president is projecting his own problems onto the entire country.
"What he feels about himself, he thinks that the same is happening with the country. When he felt OK, he was trying to prove to us too how happy we all were, but as soon as they personally got in trouble, they are now projecting these [problems] onto the country," Ivanishvili told Kavkasia TV on October 24.