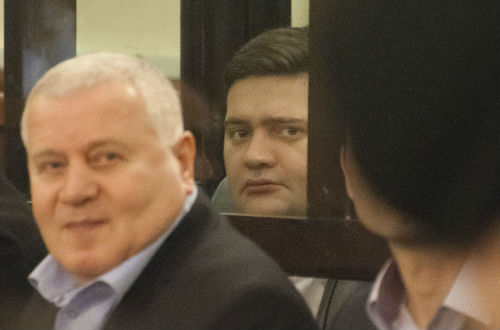 Bacho Akhalaia (right) seen behind courtroom's glass box in the Tbilisi City Court on October 31; one of Akhalaia's defense lawyers Davit Dekanoidze (left) also seen on the photo. Photo: InterPressNews
Ex-defense and former interior minister Bacho Akhalaia was found not guilty of charges involving torture and inhuman treatment of seven special task force servicemen.
Seven other co-defendants were also acquitted by the Tbilisi City Court, according to the verdict delivered on October 31.
Prosecution claimed that in August, 2012, when Akhalaia served as interior minister, he ordered mistreatment of seven task force members as "a punishment" for sympathizing Georgian Dream coalition, which at the time was in opposition.
Akhalaia and seven other co-defendants were denying charges, saying that prosecutors tried to portray extremely challenging training courses for special task force as inhuman treatment of servicemen.
This is the second case over which Akhalaia, who was detained in November 2012 over multiple criminal charges, has been acquitted.
In August he was found not guilty of charges involving exceeding official powers, illegal confinement and torture into three separate cases.
But on October 28 he was found guilty of inhuman treatment in trial related to 2006 prison riot and sentenced to three years and nine months in jail.
New charges involving abuse of power while serving as prison system chief in 2006 were initiated against Akhalaia last week; trial into these charges is pending.