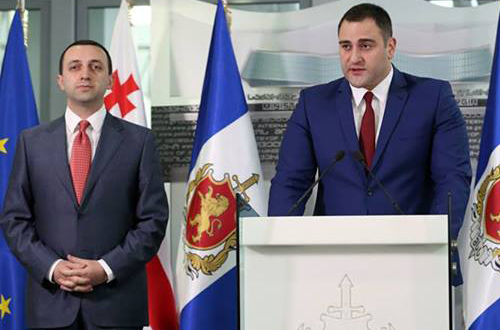 PM-designate and current interior minister Irakli Garibashvili (left) named Alexandre Tchikaidze (right) as his replacement on the powerful post of interior minister. Photo: Ministry of Internal Affairs
28-year-old chief of Tbilisi police department, Alexandre Tchikaidze, has been named as a candidate for the post of Interior Minister to replace Irakli Garibashvili, who is a prime ministerial nominee.
Tchikaidze, who is little-known to wider public, joined the Interior Ministry in 2008 a year after graduating Tbilisi State University's faculty of history.
After serving as an assistant to detective and then as detective at Tbilisi's Gldani-Nadzaladevi district police department, he was promoted as chief of this department in 2011.
After Irakli Garibashvili became the interior minister in October 2012, Tchikaidze was promoted as chief of police of Kakheti, a region in eastern Georgia. In March, 2013 he was appointed as chief of the Tbilisi police department.
While announcing the nomination, Garibashvili told journalists that thanks to Tchikaidze's leadership, police departments both in Kakheti and Tbilisi "run like clockwork."
"He has a very good team of very successful policemen," Garibashvili said. "I am sure he will be a very efficient minister. The most important is that he is a very dignified and successful policeman and I am confident that he will be successful minister."
This is the first time for many years in Georgia when a non-political figure is named for the powerful post of Interior Minister.
"I want to thank Mr. Minister [Garibashvili] for putting his trust in me; I will spare no efforts to continue in dignity the deed started by batoni [a Georgian polite form of addressing a man] Irakli," Tchikaidze said in a brief comment after Garibashvili's announcement made in the Interior Ministry.
Garibashvili, 31, who has been named as a candidate for the prime ministerial post to replace outgoing PM Ivanishvili, has yet to be formally nominated, which will happen after inauguration of president-elect Giorgi Margvelashvili on November 17; after that the entire sitting cabinet and PM Ivanishvili will formally step down, but continue performing their duties before Parliament confirms new PM and the cabinet. Garibashvili said on November 8 that he plans no major reshuffle of the existing cabinet.