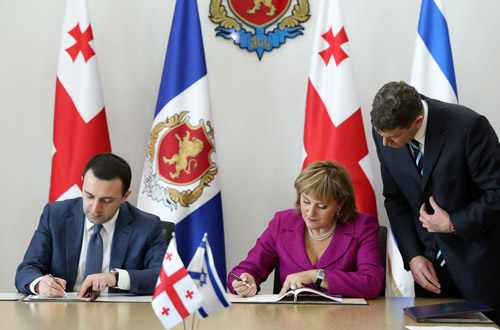 Georgia's acting interior minister Irakli Garibashvili and Israeli deputy interior minister Faina Kirschenbaum sign visa-free agreement in Tbilisi on November 18. Photo: Georgian Interior Ministry
Georgia's acting interior minister and PM-designate, Irakli Garibashvili, and Israeli deputy interior minister, Faina Kirschenbaum, signed on November 18 in Tbilisi a visa-free agreement, the Georgian Interior Ministry said.
The agreement, which is now subject to ratification by legislative bodies of the two countries before it goes into force, will allow Georgian citizens to stay in Israel without a visa for a maximum of 90 days in a six-month period, according to the Georgian Interior Ministry.
Like with many other countries, Georgia now has unilateral visa free rules for Israeli citizens.
"Today we signed a really historic document," Garibashvili said after the signing of the agreement, adding that it will further boost bilateral ties between Georgia and Israel.
Issue of lifting visa rules for the Georgian citizens was raised by PM Ivanishvili when he visited Israel in June.
Israel's Deputy Foreign Minister Ze'ev Elkin said in late October, when he visited Georgia, that Israeli government decided in principle to lift visa requirements for the Georgian citizens.
Also on November 18 an agreement on cooperation in fight against crime between the two countries was signed as well.