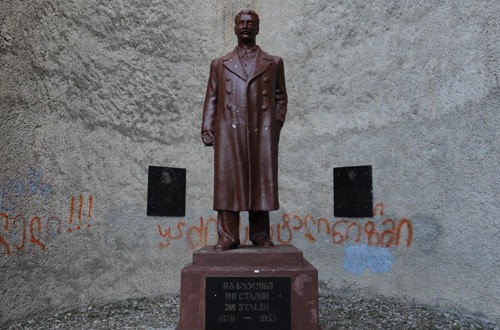 Statue of Stalin stands at a memorial to soldiers fallen in the World War II on a hill overlooking town of Telavi in Georgia's eastern region of Kakheti. The statue was re-erected in September, 2013 upon the initiative of local society of Stalin and a permit issued by the local authorities in April. It was sprayed with orange paint soon after it was re-erected; while the statue was washed, graffiti reading "down with Stalinism" still remains on the wall behind the statue. Photo: Eana Korbezashvili/Civil.ge
Parliament passed with its first reading on November 27 Georgian Dream-initiated amendments to the Liberty Charter aimed at actual enforcement of measure to prevent public display of symbols of totalitarian communist regime.
The bill, according to one of its co-sponsors GD MP Levan Berdzenishvili of the Republican Party, was prompted by several cases of restoration of Stalin monuments in the provinces.
In May, 2011 the Georgian Parliament adopted Liberty Charter, which, among other issues, also envisages creation of a state commission at the Interior Ministry in charge of gathering information about existence of symbols, monuments, statues, inscriptions, names of streets or squares, reflecting or containing "elements of communist or fascist ideology and propaganda." This commission, however, has never been established.
The proposed amendment sets timeframe of two months within which the state commission, which will also include representatives from parliamentary factions, should be established.
According to the existing law the commission has the right to issue a non-binding "recommendation" in case it finds that a symbol violates provisions of this law. The proposed amendment, after it is enacted, will make legally binding the enforcement of commission's decisions. Failure to enforce the decision will result into "warning" and repeat failure will carry fine of GEL 1,000, according to the bill.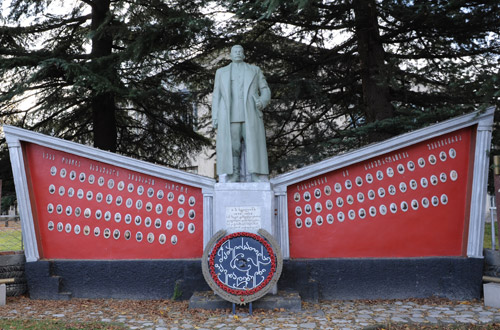 Statue of Stalin in the village of Zemo Alvani in Akhmeta municipality of Kakheti region; the statue was re-erected by the locals in December, 2012. Photo: Eana Korbezashvili/Civil.ge
"This very commission will study cases similar to those that involved erecting of monuments of Stalin; it will be in charge of preventing such cases and eliminating symbols of totalitarianism, which can only be displayed in museums; they should not be used for propaganda purposes," MP Levan Berdzenishvili told Civil.ge on November 27.
The most recently monument of Stalin was restored in town of Telavi, eastern Georgian region of Kakheti, where the monument was re-erected upon the initiative of local society of Stalin; the Georgian central government distanced itself from this and other cases, saying that it was within local self-government bodies' competence.
The bill, whose another co-sponsor is a GD MP Tamar Kordzaia of the Georgian Dream-Democratic Georgia party, also envisages replacing term "Soviet symbols" used in the existing law by "symbols of the totalitarian communist" regime.