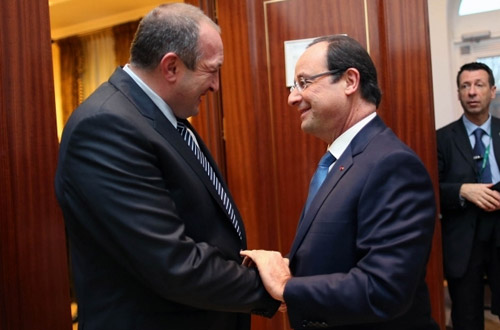 Georgian President Giorgi Margvelashvili (left) and French President François Hollande (right) meet on the sideline of the Vilnius Eastern Partnership Summit on November 29. Photo: French president's office
President Margvelashvili met his French counterpart, François Hollande, on the sideline of the Eastern Partnership summit in Vilnius on November 29.
President Hollande told journalists that there's "excellent" mutual understanding and added that he plans to visit Georgia in "coming months."
The Georgian president's office said that Margvelashvili thanked his French counterpart for "support in Georgia's European and Euro-Atlantic integration issues" and invited President Hollande to visit Georgia.
In Vilnius the French President is also due to meet his counterparts from Armenia, Azerbaijan and Ukraine; he also met Moldovan Prime Minister earlier on November 29.
In other bilateral meetings on the sideline of the Vilnius Summit, President Margvelashvili held talks with Presidents of Poland and Latvia, as well as Prime Ministers of Estonia and Slovenia. He also met President of the European Parliament Martin Schulz and President of the European Bank for Reconstruction and Development (EBRD) Suma Chakrabarti.