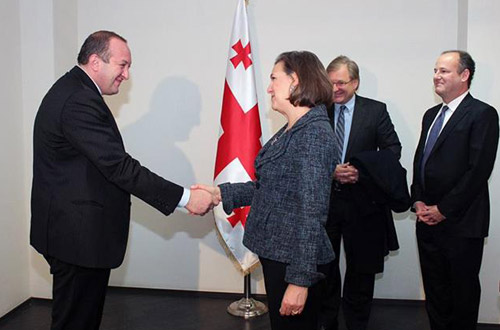 President Giorgi Margvelashvili meets U.S. Assistant Secretary of State for European and Eurasian Affairs Victoria Nuland in Tbilisi, December 6. Photo: U.S. embassy
Victoria Nuland, the U.S. assistant secretary of state for European and Eurasian affairs, started her visit to Tbilisi on December 6 with a meeting with President Giorgi Margvelashvili.
President Margvelashvili told the U.S. Assistant Secretary of State that Georgia faces "difficult" year ahead as it aims to sign the Association Agreement with the EU next autumn. Margvelashvili, according to his press office, stressed on importance of the U.S. support to Georgia in tackling "serious challenges" the country may face ahead of the signing this agreement, which was initialed at the Eastern Partnership summit in Vilnius late last month.
Joined by PM Irakli Garibashvili and Defense Minister Irakli Garibashvili, the Assistant Secretary of State participated in a disability rights event, involving a ribbon-cutting ceremony of a USAID-funded accessibility ramp at the State Chancellery building. In Tbilisi Nuland will also hold a meeting with opposition representatives.
"I am pleased to be back in Georgia and to see first-hand the remarkable progress you've made in recent years, developing not just your physical infrastructure, but your democratic institutions as well," she said at the event and reiterated U.S. commitment "to promote Georgia's democracy, security and prosperity."
During a meeting with PM Garibashvili, Nuland handed over a message from President Barack Obama, congratulating him on appointment as PM.
"The United States and Georgia enjoy a strong and special partnership based on the full range of our shared interests. We appreciate, in particular, Georgia's significant contributions and sacrifices made in support of our collective efforts in Afghanistan. As you work with all parties and civil society to strengthen Georgia's democratic institutions and progress toward further Euro-Atlantic integration, the United States will continue to assist Georgia in these efforts and support its sovereignty and territorial integrity," the message reads.
Before arriving in Tbilisi, Nuland was in Kiev for the OSCE ministerial meeting. In her address to the 20th OSCE Ministerial Council, the U.S. Assistant Secretary of State also touched upon Georgia in the context of conflicts, saying that "the situation has deteriorated with the fencing of the occupied territories", involving placement of fences by the Russian troops along the administrative boundary line of breakaway South Ossetia.
After Tbilisi, the U.S. Assistant Secretary of State will visit Moscow on December 8-10.