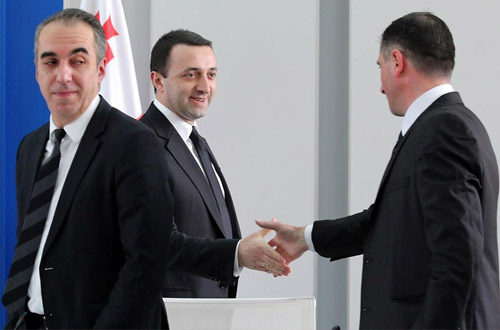 New head of government administration's department for relations with regions, Akaki Chkhenkeli (left); PM Irakli Garibashvili (center); new governor of Racha region Parmen Margvelidze (right) during naming of new provincial governors on December 13. Photo: PM's press office
New governors of the nine regions were appointed on December 13 and a government official in charge of liaising with local authorities in the provinces has been replaced.
After the new constitution went into force in November, provincial governors are appointed by the government and Prime Minister instead of the President. Previous governors filed for resignation just before expiration of Mikheil Saakashvili's second and final presidential term last month.
PM Irakli Garibashvili appointed Akaki Chkhenkeli as new head of department at government's administration in charge of relations with regions and local self-government bodies, replacing Irakli Melashvili.
Chkhenkeli was a senior official at Interior Ministry's internal investigations unit before the new appointment. Several newly appointed governors are also with the background of working in the law enforcement structures.
Zaza Meparishvili has been appointed as a governor of Imereti, Georgia's largest region by population in the western part of the country. Meparishvili was head of western Georgia's regional security service at the Interior Ministry.
Akaki Matchutadze became the new governor of Samtskhe-Javakheti region; he was head of the Interior Ministry's security service in this region before the new appointment.
Levan Shonia is the new governor of Samegrelo-Zemo Svaneti region; he was chief of police of the same region.
Giorgi Mgebrishvili is the new governor of Kvemo Kartli region. He served on various positions in the law enforcement agencies, PM Garibashvili said on December 13, when presenting newly appointed governors. Mgebrishvili also served as a tax official for two years in the Kvemo Kartli region and was chief of customs department till spring, 2013.
Irakli Shiolashvili, who up until now served as head (gamgebeli) of Dedoplistskaro municipality in the Kakheti region, was appointed as governor of Kakheti.
Giorgi Chkhaidze, a businessman, has been appointed as the governor of Guria region.
Nugzar Kipiani, a documentary film director who worked for former prime minister Bidzina Ivanishvili's TV channel in early 2000s, was appointed as governor of Mtskheta-Mtianeti region.
Zurab Rusishvili, who was a manager of central service center of Ivanishvili-affiliated Cartu Bank, became the governor of Shida Kartli region.
Parmen Margvelidze, a formerly a tax official in the Racha-Lechkhumi region, has been appointed as the governor of this region.
"You are representatives of the government and the Prime Minister in the regions; so you assume a huge responsibility to secure implementation of various projects, including infrastructure, in the regions successfully, efficiently without delays," PM Garibashvili told newly appointed governors.