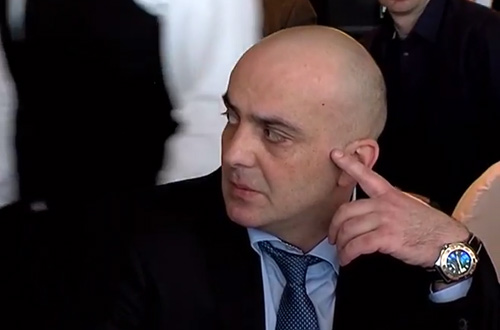 Screengrab from government press office video showing chief prosecutor Otar Partskhaladze at a reception marking 36th anniversary of enthronement of the Patriarch of the Georgian Orthodox Church, December 27, 2013. It was Partskhaladze's first public appearance since taking the chief prosecutor's office in November.
Parliament speaker Davit Usupashvili said as of now there is no reason whatsoever to sack chief prosecutor Otar Partskhaladze, who is facing lingering allegations over criminal record.
In an interview with Tbilisi-based Maestro TV late on December 26, Usupashvili said that the issue of dismissing Partskhaladze is "completely irrelevant"; he also said the PM and Justice Minister Tea Tsulukiani had no reason not to appoint Partskhaladze as chief prosecutor month ago and "I fully support this decision."
"The Prime Minister thinks that as of now there is no reason whatsoever to dismiss him [Partskhaladze] and he [PM] has my full support over this issue," Usupashvili said in his first comment since allegations emerged about Partskhaladze's possible criminal record. "I spoke with the Prime Minister and I received a very firm answer from him, that everything is in order in respect of Otar Partskhaladze and that there is no issue that would trigger suspicion, either legal or moral, about his biography."
In a preview of an interview to be aired later on Friday by Rustavi 2 TV, PM Irakli Garibashvili confirms that Partskhaladze "has a conviction and served his sentence in Germany", but he also says that "noise" around Partskhaladze is "exaggerated."
Gigi Ugulava, who was suspended from Tbilisi mayoral office, said late on December 23 that the chief prosecutor has a criminal record, involving conviction in Germany for theft and burglary. Partskhaladze partly confirmed allegations against him and said in a written statement on December 24 that he had to appear before the German court after having an "incident" with the police in 2000; but he claimed court in Germany found him guilty of "verbal altercation" with a policeman and not for burglary.
Chief prosecutor's office maintains that allegations against Partskhaladze aim at undermining recently stepped up investigation efforts into number of high-profile criminal cases, including against some former government officials, as well as against Ugulava himself, who faces additional charges involving alleged misspending of over GEL 48 million of public funds. In their comments on the issue politicians and lawmakers from the Georgian Dream ruling coalition mainly echo this line of argument. But many commentators and analysts, including those sympathetic towards the ruling coalition, have voiced criticisms, calling on the chief prosecutor to step down in order to avoid further scandal, which may harm not only personally him but the ruling coalition and the government as a whole.
On top of the allegations of having a criminal record, Partskhaladze has also been accused of having a fake law diploma, making him ineligible to hold the post. UNM parliamentary minority group, which is calling for Partskhaladze's resignation, invited the chief prosecutor to appear before the parliamentary minority group's hearing to answer pressing questions over his past, as well as over the recent allegations in which he was accused of exerting pressure on former PM Vano Merabishvili, who is now in pre-trial detention; a request to appear before UNM lawmakers was left unanswered from the prosecutor's office.
On December 25 Partskhaladze appeared at a reception marking 36th anniversary of enthronement of head of the Georgian Orthodox Church, Patriarch Ilia II; he, however, was not available for the press to ask him questions. It was his first public appearance since taking chief prosecutor's post on November 21.
Usupashvili said in the interview with the Maestro TV that scrutiny of a chief prosecutor was "natural", especially after the law enforcement agencies started "shedding light on painful issues". He said that a new "serious front has been opened" in attacks against the chief prosecutor recently. But Usupashvili also said it was a "slight mistake" by the authorities not to give proper answers to questions over Partskhaladze soon enough after they arise.
"This [attack against chief prosecutor] was not a surprise for me, I was expecting it," Usupashvili said. "The same was about the previous leadership when they were approaching some serious issues [in the process of their investigations]. No matter who asks questions – even if questions are asked by those who themselves were asked much more questions – the authorities should give comprehensive answers. I think the authorities made a slight mistake by not providing promptly comprehensive answers backed by facts. It added anxiety to this process, but light has been shed on everything gradually and all the issues have been responded."
"The issue that Partskhaladze should resign is completely irrelevant," Usupashvili said. "An official should step down when he thinks that for some reasons he is no longer able to perform duties."
President Giorgi Margvelashvili sidestepped from giving a direct answer when asked to comment about allegations against Partskhaladze. He said on December 26 that he's "not a person who checks files" about individuals' past record.
Citing his constitutional powers, Margvelashvili said that it's not up to him to nominate or to appoint a chief prosecutor. "Issue of chief prosecutor falls within the [competence] of the executive government; so let them determine their position over this issue," President Margvelashvili said.
PM appoints chief prosecutor upon nomination by Justice Minister. It was Garibashvili, who first made the public announcement on November 8 about intention to have Partskhaladze on this post; at the time Justice Minister Tsulukiani said that she did not personally knew Partskhaladze, but added that she trusted Garibashvili's choice. Tsulukiani has not yet commented on allegations against Partskhaladze.