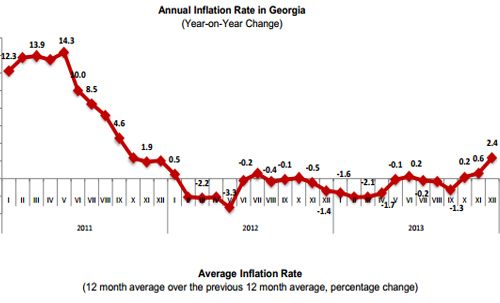 Source: Geostat
Georgia's annual inflation was 2.4% in December as food, tobacco and housing costs increased, according to figures released by the state statistics office, Geostat, on January 3.
That was up from the 0.6% figure recorded in November but still well below the central bank's 6% medium-term target; government forecast for 2014 end of the year annual inflation is 3.5%, according to the state budget.
The consumer price index increased by 1.5% in December from the month before, according to Geostat.
Prices for food and non-alcoholic beverages increased 5.7% year-on-year in December; cigarette and housing prices were up by 13.6% and 3.9%, respectively.
Prices for healthcare services and hotels and restaurants increased 1.5% and 2.3% y/y, respectively. Prices on clothing and footwear dipped by 5.5% y/y in December.

2.4% annual inflation in December was the highest rate since October, 2011. Inflation was mostly in negative territory or hovering around zero for past twenty five months.
In December the Georgian central bank kept its key rate at 3.75%, unchanged since August – the lowest rate since January 2008, when Georgia's central bank launched setting monthly refinancing rate.
"The fourth quarter showed a slight increase in economic activity," the Georgian National Bank said on December 18. "The foreign trade indicators also point at the increase in the domestic demand. Preliminary data show the import revival, which has increased by 22% compared to last year. External demand has increased as well with the annual increase in exports reaching 60%. The growth rate of foreign remittances remained high at 12.6%, serving as an additional source of increase in aggregate demand."