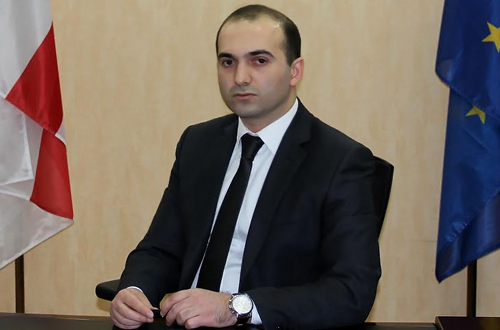 New chief prosecutor, Giorgi Badashvili. Official photo released by PM's office
PM Irakli Garibashvili appointed on January 21 Giorgi Badashvili as new chief prosecutor.
Badashvili, 32, was head of the investigations unit at the chief prosecutor's office since November 22, 2013 and was deputy head of the anti-corruption agency at the Interior Ministry from May to November, 2013; before that, Badashvili, who graduated faculty of law at the Georgian Technical University, served in the investigations unit of the Finance Ministry since 2006.
Chief prosecutor's post became vacant on December 30 after Otar Partskhaladze had to step down because of a scandal over his past criminal conviction in Germany. Before becoming chief prosecutor on November 21, 2013, Partskhaladze served as head of Finance Ministry's investigations unit.
"Taking into consideration high public interest towards the post of chief prosecutor and in general towards the work of chief prosecutor's office, candidacy for the post has been selected by taking into view his qualification, professionalism and good reputation," PM's office said in a statement.
Formally Badashvili was nominated for the post by Justice Minister, Tea Tsulukiani, as envisaged by the law; but as the Justice Minister said on January 17 she was not involved in the process of selecting new chief prosecutor.
Badashvili is the third chief prosecutor since Georgian Dream coalition came into power after the October, 2012 parliamentary elections.