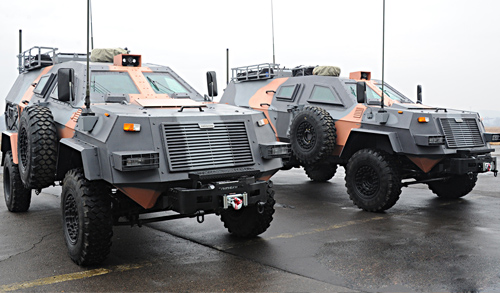 Command, control and communications vehicle is based on Didgori light armored vehicle, manufactured by MoD's research center, Delta, and first unveiled in 2011.
Georgian Ministry of Defense unveiled on January 28 what it calls a domestically manufactured command, control and communications vehicle.
MoD said that the command and control vehicle was manufactured and developed in its research center Delta, based on four-wheeled light armored vehicle Didgori, which was first unveiled in 2011.

Rustavi 2 TV reported that the vehicle is equipped with communications system produced by Harris Corp., U.S. defense communications and information technology company. MoD declined to either confirm or deny it.
Defense Minister Irakli Alasania said that the vehicle of this type was commissioned to Delta by the Georgian armed forces based on lessons learned from the August, 2008 war with Russia.
"The most important is that we taken into consideration a very negative experience of 2008 [war with Russia]. Our armed forces had the largest gap in communications and command systems," Alasania said. "It is important that today on the level of battalions we already have reliable communication systems."
He said that Delta currently works on other projects with focus being made on production of individual protective equipment.
"For years the Georgian military industry has been developing gradually. We are now at the point where in certain directions Georgia is able to carry out production autonomously, which is so important for our armed forces and I hope that this production will also have export opportunities," Alasania said.