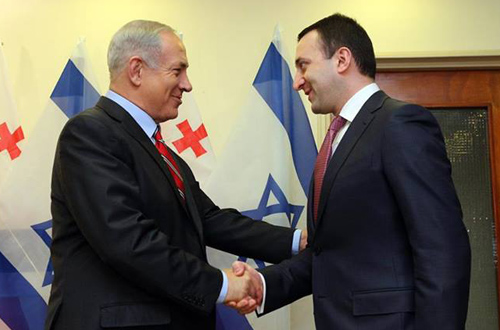 Israeli PM Benjamin Netanyahu (left) and Georgian PM Irakli Garibashvili (right) during a meeting on January 28, 2014. Photo: Georgian PM's office
Israeli PM Benjamin Netanyahu, who met his Georgian counterpart Irakli Garibashvili in Jerusalem on January 28, said that the two countries should focus on how to "increase our friendship and cooperation."
"And it's an enduring and long friendship," PM Netanyahu said in remarks for the press before the meeting. "We have a natural sympathy with Georgia that seeks to establish a prosperous and secure future for its people. We think we can do that together."
"We have every area to cooperate in, technology and water, agriculture, education, everything. And we are open to further this cooperation in all fields. We've been doing that; we'll continue to do that. I'm sure your visit enhances that. That is part of our quest to achieve security, prosperity and peace," the Israeli PM said.
PM Garibashvili said in his remarks that Georgia strives "to build a favorable ground for full expansion of bilateral trade relations worldwide and therefore we attach special importance to the discussions toward a free trade agreement between the State of Israel and Georgia."
Meanwhile in Tbilisi, Defense Minister Irakli Alasania told journalists on January 28 that "great opportunities have opened up" for military cooperation between Georgia and Israel.
"I visited Israel last month and an agreement was reached to set up a group that will start developing our military cooperation in all directions," Alasania said.
A memorandum of understanding on launching Georgian-Israeli joint economic commission was signed by Israeli Foreign Minister Avigdor Lieberman and his Georgian counterpart Maia Panjikidze on January 28.
This is a second visit of a high-level Georgian delegation to Israel in last seven months. In June, 2013 then PM Bidzina Ivanishvili visited Israel. In November, 2013 Georgia and Israel signed visa-free agreement, which has yet to go into force.
After the meeting with his Israeli counterpart, PM Garibashvili told journalists: "Israel is very important country for Georgia. We pay special attention to cooperation with Israel in whole range of areas – economy, culture, security."
"I had a very important and fruitful meeting with the Israeli Prime Minister and the Israeli President [Shimon Peres]. We exchanged interesting ideas about how to further deeper our relations and first of all it concern economy as there is a huge potential," the Georgian PM said, adding that he also had a meeting with a group of Israeli business people, who, he said, would visit Georgia in March to look into investment opportunities.
"Prime Minister Netanyahu assured me of his full readiness and support to personally recommend [Israeli] investors to visit and invest in Georgia," he said.
PM Garibashvili also said that the newly launched joint economic commission should pave the way for signing of free trade agreement between two countries. Before the visit the Georgian PM's office was reporting that the signing of this agreement was planned during the visit.