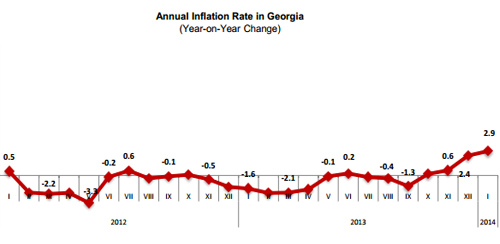 Annual inflation between January, 2012 and January, 2014. Source: Geostat
Annual inflation was 2.9% in January, up from 2.4% figure recorded in December, according to the state statistics office, Geostat.
On monthly basis inflation stood at 0.8% in January.
Annual inflation rate was driven mainly by increasing prices on food and housing, which rose 5.2% and 8.9% year-on-year, respectively. Prices on alcoholic beverages and cigarettes increased 8.4% y/y, according to Geostat.