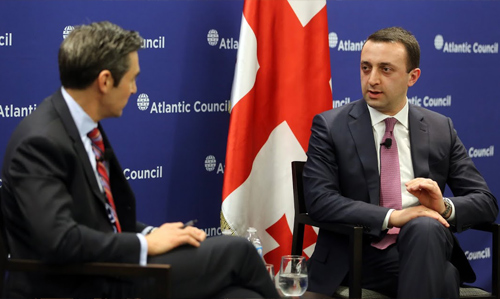 Georgian PM Irakli Garibashvili (right) speaks at the Atlantic Council in Washington during an event moderated by Atlantic Council executive vice president Damon Wilson (left). Photo: PM's office
PM Irakli Garibashvili said NATO should grant Membership Action Plan (MAP) to Georgia at its summit in September as a reward for the progress made by the country and called on the EU to make "a clear promise of membership to the successful countries" of the Eastern Partnership.
Although some leaders of the Georgian Dream ruling coalition have previously voiced calls for granting MAP to Georgia, this is the first time when Garibashvili, who is now visiting the U.S., prioritized the issue in his public speech.
In prepared opening remarks, read out at an event hosted by a Washington-based think-tank Atlantic Council on February 25, PM Garibashvili said that moving forward with the NATO integration is "essential" and the "realistic" way to do it would be to give MAP to Georgia.
At the 2008 Bucharest summit NATO refused to grant MAP to Georgia, which is considered to be a precursor to an eventual membership in the alliance; but at the same summit the NATO leaders instead pledged that Georgia will become NATO member sometime in the future provided that the country meets all the criteria.
"Six years ago at the NATO Summit in Bucharest the Alliance decided that Georgia would become the member of NATO. And in Chicago [2012 summit] the Alliance underlined importance of holding free and fair parliamentary and presidential elections in Georgia. The progress [is] already made and it puts us in a strong position to take next step forward in Georgia's NATO integration," PM Garibashvili said.

"For Georgia the upcoming NATO Summit in the UK is the best opportunity to adequately reflect the progress made," he said.
"It is essential to move forward and the realistic way to do it is to grant Membership Action Plan to Georgia," the PM said. "We stress on MAP as it is the single integration mechanism providing a concrete framework for the implementation of the Bucharest Summit decision that Georgia should become the member of NATO."
"By moving to this substantially new level we are ready to patiently continue gradual, step-by-step process of comprehensive reforms," he added.
In his address PM Garibashvili, who met President Obama and Vice President Biden at the White House on February 24 and will meet Secretary of State John Kerry on February 26, also spoke of the need for clear EU membership perspective.

"With the current dramatic events in Ukraine it is becoming increasingly obvious that certain foreign pressures play a destructive role not only [for] regional stability but also [for] very existence of sovereignty and territorial integrity of our nations – Georgia, Ukraine, Moldova," Garibashvili said in his opening remarks while addressing audience at the Atlantic Council.
"It is obvious that unless the European Union gives a clear promise of membership to the successful countries of the Eastern Partnership, this crisis similar to Ukraine will happen again and again," he said.
"The international community needs to send a clear message to large and small countries of the region – the message which will underpin the notion that no third party can influence the aspirations of regional countries striving to fulfill their choices of democratic political system or foreign alliance."
"At this very important historical stage for our entire region, the West should realize that giving up on values in foreign policy may be very costly not only for small countries like Georgia, but also for the entire international community," Garibashvili said. "We hope that Georgia will get its fair share of support and appreciation for progress it made despite harsh foreign pressure."
The Georgian PM said that with the Sochi Olympics already over, "we expect Russia may increase political pressure on Georgia before signing the Association Agreement" with the European Union. He said that Georgia considers signing of this agreement "in next few months."
He stressed on the importance of U.S support through "proper and constant messaging to Russia" to respect Georgia's European choice.
Garibashvili also said that the Georgian government will do everything possible to withstand any possible foreign pressure.
"We are simply not going to compromise our European future, because this is the choice of our government, which is backed by the will of the Georgian people," the PM said, adding that the process is irreversible as the European integration enjoys by overwhelming public support in Georgia.
"We are calling for your support not because we are internally divided or unsure about our aspirations; we call on our Western friends to help us to withstand foreign pressures that threaten to reverse the gains that free world made in our region," he said.
He then mentioned that 93 years ago on this day, February 25, the Bolshevik's Red Army took over Tbilisi in 1921 – national flags are lowered to half-staff in Georgia on this date, making the Day of Soviet Occupation. "It is important to make sure that such tragedies do not repeat themselves in the 21st century," the PM said.
The issue of Ukraine was again raised during a question and answer session; the Georgian PM said that the Ukrainian people "should have the right to decide where to go – go to the past or go towards the Europe."
"I think that the international community should be proactive; the European Union and the international community in general should take decision quickly," Garibashvili said.
Free Trade
Responding to a question from audience if he discussed possibility of free trade agreement with the U.S. during a meeting with President Obama, PM Garibashvili responded: "President Obama raised this issue with me and actually the President suggested that we have to strengthen our trade and economic cooperation."

He said that he will meet with U.S. Trade Representative Michael Froman to discuss the issue and added that it is a "top priority".
Exploring possibility of free trade agreement with Georgia was first mentioned by President Obama in January, 2012 when he met then President of Georgia Mikheil Saakashvili.
Asked what he's hoping to get from his first visit to the United States, PM Garibashvili responded that it was important for him to hear personally from President Obama that Georgia has Washington's "very strong support." He said that the U.S. is "number one ally" for Georgia.
"I really want to elevate the existing friendship to another level… I think this trip is already a great success," he said.
Asked what the U.S. can additionally do to support Georgia and what he thinks about coordination between the U.S. and the EU to protect sovereignty and territorial integrity of Georgia, Garibashvili responded that the U.S. "is doing everything in order to protect the interest of our country". On second part of this question he said: "I think the Europe became more proactive, especially after the [developments in] Ukraine." He then said that he would not like to discuss it and instead prefers to focus on Georgia. "I think the Europe and the United States are doing their best to support Georgia and other democratic states," he added.
'No Politically Motivated Criminal Prosecutions'
When he was asked about criminal proceedings against former government officials and what role he thinks the UNM opposition party will play in Georgian politics, Garibashvili responded by focusing on the former while leaving the latter unanswered.
He said that transparency, rule of law and due process is "guaranteed" in trials against former government officials and added that none of the case was politically motivated.
"Nobody stands above the law… When I leave the office – maybe in five years, maybe later or earlier, nobody knows – I want to be accountable for what I am doing now and if after five years or after ten years the new government finds out that I committed a crime I should [be held] responsible for it," he said.
He also said law is applied equally to everyone and said that when he served as interior minister his first deputy was arrested as well; he was referring to Gela Khvedelidze who was charged with privacy breach and released on bail last year. Garibashvili also said that he does not want to talk much about the past and added that his government is future oriented.
Asked if ex-President Saakashvili, who left Georgia after the 2013 presidential election and is now based in the United States, would be welcomed back to Georgia, Garibashvili responded: "Of course he's welcomed to come back."
"I can't promise that people are missing him, but he can come back; he still has a valid Georgian passport, therefore he can travel without any problem," Garibashvili added.