'Strict adherence to rule of law will encourage investors' confidence';
'Democracy benefits from strong political opposition';
Kerry urged Georgia to 'unite in looking forward and to leave the past in the past';
Expressed support to Tbilisi's 'reconciliation efforts' vis-à-vis Sokhumi, Tskhinvali;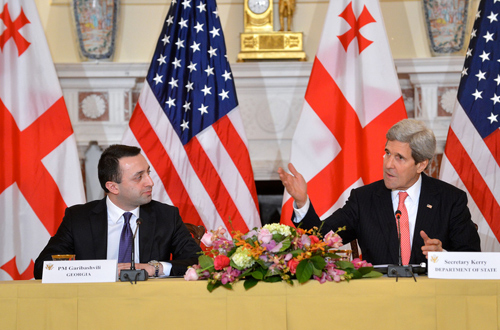 U.S. Secretary of State John Kerry and Georgian Prime Minister Irakli Garibashvili deliver remarks at the U.S.-Georgia Strategic Partnership Commission plenary session at the U.S. Department of State in Washington, D.C., February 26, 2014. State Department photo
U.S. Secretary of State John Kerry said after meeting with Georgian PM Irakli Garibashvili on February 26 that bilateral "strategic partnership is stronger than ever" and announced about the plan to provide "additional assistance" to help Georgia with its European and Euro-Atlantic aspirations.
"Today I am announcing additional assistance by the United States to help support Georgia's European and Euro-Atlantic vision, specifically to help Georgia achieve visa-free travel with the EU and to mitigate the hardships caused by borderisation along the occupied territories," the U.S. Secretary of State said; details of the "additional assistance" were not immediately available.
The Secretary of State was speaking at the fourth plenary session of the U.S.-Georgia Strategic Partnership Commission right after the bilateral meeting with the Georgian PM. In his opening remarks the Secretary of State stressed on importance of "strict adherence to rule of law", strong political opposition and providing "a level playing field" for local elections in June.
U.S.-Georgia Strategic Partnership Commission is a mechanism established through strategic partnership charter signed by the two countries in January, 2009 to address priority areas identified in the charter: democracy; defense and security; trade and economy; people-to-people and cultural exchanges.
Kerry said that he had "a very good bilateral meeting" with the Georgian PM during which they discussed issues ranging from "economic and external challenges" to Georgia, as well as Georgia's efforts to sign the Association Agreement with the EU and the situation in Ukraine.
He said that the U.S. encourages Georgia to sign the Association Agreement with the EU. Georgia intends to sign the agreement, which also includes deep and comprehensive free trade component, before autumn.
"We do not make that urging for the signing that Association [Agreement] some sort of zero-sum game between the east and west, between us or any other party. We simply want people to be able to exercise their freedom of choice and be able to maximize their economic opportunities and that does not mean that it can't also involve engagement with others," Kerry said.
He said that the U.S. and Georgia have "very strong and important relationship focused on many issues" and stressed significance of democracy and rule of law. The Secretary of State hailed Georgia's 2013 presidential election saying that "transparency and the openness of the process was significant."
"You have a chance to build on these achievements by demonstrating now a level playing field during upcoming local elections," Kerry said, adding that democracy benefits from strong political opposition. "So we urge all sides to work constructively to advance the dialogue and debate within Georgia and that's just going to make your nation stronger."
Commending Georgia's "progress in economic reform", he also urged the Georgian government "to quickly implement its plans" to contribute to trade and investments including with the United States.
"Strict adherence to rule of law and a steadfast commitment to the process will encourage the confidence of investors and it will serve as a catalyst for integration with Europe and enhance Georgia's international reputation," he said.

"We urge all Georgians to unite in looking forward and to leave the past in the past," Kerry added.
The Secretary of State said that the U.S. "remains committed to strengthening" trade and investments with Georgia and expressed support to Georgia's efforts "to become a regional trade hub, which will require continued infrastructure improvements and sustained regional cooperation."
He reiterated U.S. support to NATO Bucharest summit decision that Georgia will become a member of the Alliance.
"The United States will work to make sure that Georgia's progress is acknowledged by all members at this year's NATO summit," Kerry said.
He also said that the U.S. support's Georgian government's "reconciliation efforts" in respect of breakaway Abkhazia and South Ossetia, as well as Tbilisi's efforts to achieve "a peaceful and just resolution of conflicts."
"We continue to object to Russia's occupation, militarization and borderisation of Georgian territory and we call on Russia to fulfill its obligations under the 2008 ceasefire agreement including withdrawal of its forces and free access for humanitarian assistance," the Secretary of State said.
He said he's looking forward to visiting Georgia possibly sometime in spring.
PM Garibashvili, who met President Obama and Vice President Biden on February 24, said in his opening remarks at the strategic partnership commission session that Georgia has "always stood adamantly next to the United States in every single situation."
"Your support provides a powerful stimulus to our resolve to persist in the often uphill but honorable task of strengthening democracy, especially in our challenging region and especially when more than 20% of Georgia territory remains under Russian occupation," Garibashvili said.