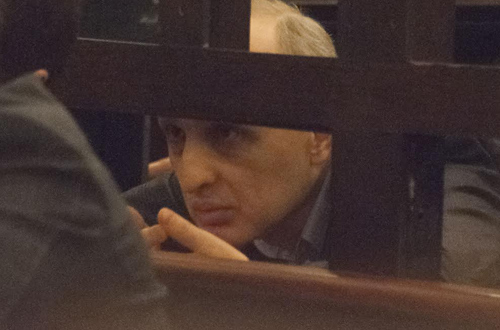 Vano Merabishvili seen behind defendant's cell in a courtroom in Tbilisi on February 27. Photo: InterPressNews
Tbilisi City Court found ex-interior minister Vano Merabishvili guilty of exceeding official powers in case related to break up of protest rally in Tbilisi in May, 2011 and sentenced him to 4 years and 6 months in jail.
The judge ruled that nine months spent by Merabishvili in pre-trial detention before the final verdict was announced on February 27 should form part of the punishment, meaning that Merabishvili's remaining prison term will be 3 years and 9 months – less than his prison term imposed by the court in a separate, unrelated trial against ex-PM Merabishvili ten days ago.
Merabishvili's defense lawyer, Giorgi Chiviashvili, said that the verdict will be appealed to higher court. "Regrettably the court failed to withstand pressure," he said.
Prosecution argued that Merabishvili, who was interior minister in 2011, ordered "punitive" operation against anti-government demonstrators, led by Nino Burjanadze, with the use of excessive force on the night from May 25 to May 26 in 2011. Defense claimed that isolated cases of excessive force used by police against protesters had nothing to do with Merabishvili's order to disperse demonstration to pave the way for holding of a military parade next morning to mark the Independence Day.
Judge of Tbilisi City Court, Khatuna Kharchilava, found Merabishvili guilty of exceeding official powers "with use of violence" and found not guilty of another charge involving exceeding powers "with insult of victim's dignity." Original sentence delivered by the judge was six-year prison term, but it was truncated to 4 years and 6 months as a result of amnesty act adopted by the Parliament in December, 2012.
"This verdict is for hundreds of those citizens who suffered from police violence on May 26, 2011," prosecutor Natia Mezvrishvili said after the verdict was delivered.
Meanwhile outside the Tbilisi City Court scuffle erupted between activists from two opposing groups – supporters and opponents of Merabishvili, who were rallying in anticipation of the verdict; several people were detained by the police.
Merabishvili also faces criminal charges, involving alleged abuse of office, in connection to Sandro Girgvliani murder case in 2006; prosecutors accuse Merabishvili, who at the time was the Interior Minister, of series of premeditated actions aimed at covering up evidence in an attempt to obstruct justice into this murder case. Merabishvili denies these charges too.