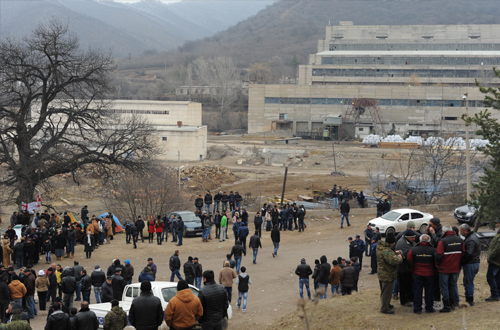 Strikers gathered in Kazreti at the entrance of a flotation plant on February 25. RMG, a gold and copper mining company, says those workers who on strike disrupt factory's operation by hindering their colleagues who refuse to take part in the strike to access the plant. Photo: Eana Korbezashvili/Civil.ge
A gold and copper mining company, RMG, which is facing a large-scale strike of workers and uncertainty over its operations at one of the gold deposits, said on February 27 that "certain amount" of polluted water was spilled into Kazretula river.
The company blamed the spill on ongoing strike of workers, which, RMG said, disrupted operations in its plant in Kazreti, a small town about 80 kilometers southwest from Tbilisi.
"As shutdown of enterprise's operations is directly linked with negative impact on environment, an unfortunate incident has taken place. In particular, overfilling of storage caused spill of certain amount of contaminated water into the river of Kazretula," RMG said in a statement.
The statement does not specify scale of the incident; the Ministry of Environment said it has sent a team to assess situation on the ground. Kazretula is a tributary of Mashavera river – pollution of both of them as a result of decades of mining activities has been a concern for environmentalists for a long time already.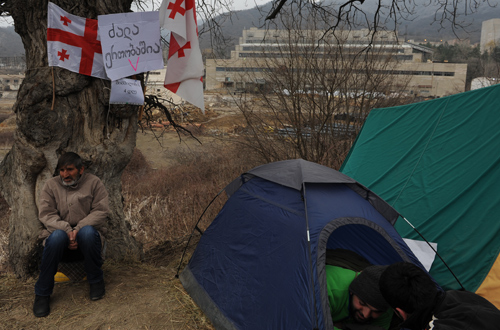 Several of those 184 employees who have been dismissed by RMG are on hunger strike in Kazreti demanding reinstatement. Banner reads: "Strength is in Unity", February 25. Photo: Eana Korbezashvili/Civil.ge
Reported incident comes just one day after RMG sent a letter to the government warning of possible spill of acid waters due to ongoing strike in which, according to trade unions, about 300 workers are participating.
Strike of RMG employees started in Kazreti, Bolnisi municipality of Kvemo Kartli region, on February 14.
Strikes were taking place time after time since November, 2013, but the recent and larger one was triggered by RMG's decision to lay off over 180 workers in late January.
Pay raise, improvement of working conditions and reinstatement of sacked employees are among the main demands. After lengthy talks on February 26 the company said at this stage it's only able to reinstate about 40 workers, an offer which falls far short of strikers' demands.
The company said that it was forced to lay off workers because of significantly downscaled mining activities as it is not allowed to dig gold from one of the sites, which although falls within company's mining license, but is also in the center of dispute because of its presumed archeological value.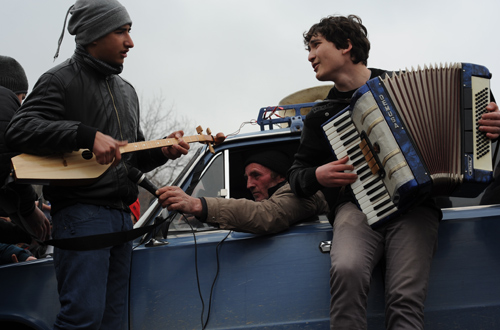 Youngsters entertain protesters in Kazreti, February 25. Photo: Eana Korbezashvili/Civil.ge
The site in question is Sakdrisi, a hillock in Bolnisi municipality, which some archeologists believe is the world's oldest gold mine – an assertion disputed by the company and some researchers.
The site was granted a special status and became protected under the heritage laws in 2006, but last year the Ministry of Culture revoked this status citing that the site was enlisted through procedural violations; the move prompting strong protest from preservationists.
Although the site was removed from the list of protected areas, RMG still lacks final approval from the authorities to proceed with open-cast mining, which, if launched, preservationists say, will make it impossible to continue archeological research of the area.
RMG has accused for multiple times in recent months the Ministry of Culture for dragging out the process and keeping the company in uncertainty. RMG was particularly critical of former first deputy minister of culture, Marine Mizandari, a strong supporter of preserving the site for further archeological research. Mizandari was sacked by PM Garibashvili upon Culture Minister Guram Odisharia's request on February 10 on the grounds of "violating official duties"; Mizandari said that she was dismissed mainly because of dispute over Sakdrisi. Two weeks later head of the National Agency for Cultural Heritage Preservation was also replaced.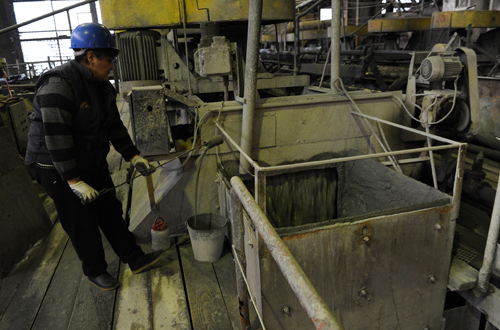 A worker seen in flotation plant in Kazreti on January 21, 2014. The plant was built over 40 years ago. Workers who are on strike demand pay raise, improvement of working conditions and reinstatement of dismissed 184 employees. Photo: Eana Korbezashvili/Civil.ge
RMG has warned the Georgian authorities that further delay in giving permission to launch operations in Sakdrisi would force the company to pull out from the country. Without Sakdrisi it becomes financially unviable for the company to continue operations in the country, RMG executives say.
RMG (Rich Metals Group) operates integrated copper-gold mining and processing complex in the Bolnisi municipality of Kvemo Kartli region through its two daughter companies RMG Gold and RMG Copper. According to the company it has total of about 3,000 employees. The mining company changed hand from one group of Russian investors to another in 2012 for USD 120 million.
RMG executives say that the company will only be able to reinstate dismissed workers after increasing scope of operations, which, they say, is conditional to government's decision on Sakdrisi.
Newly appointed head of the National Agency for Cultural Heritage Preservation, Nikoloz Antidze, said on February 27 that the issue of Sakdrisi is being under intense consideration and the decision will be taken "in the shortest period of time".
Strike in Kazreti, whose small community relies largely on income received from working for local processing factory, has turned into a daily protest rally, involving not only part of workers and their dismissed colleagues, but many other residents of the town as well – the process which also affected local public school where classes were canceled on February 27.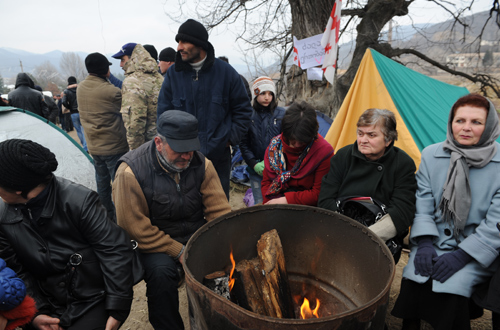 Protesters in Kazreti, February 25. Photo: Eana Korbezashvili/Civil.ge
Public Defender, Ucha Nanuashvili, who visited Kazreti on February 27 to meet with protesters, said that the situation is "alarming" and called on the government to intervene and try resolve dispute between the parties.
Export of raw or semi-processed gold from Georgia declined 16.6% in 2013 over the previous year to USD 73.3 million, accounting 2.5% of country's total exports.
Export of copper ores and concentrates saw three-fold increase to USD 161.6 million in 2013, accounting 5.6% of country's total exports, according to state statistics agency, Geostat.