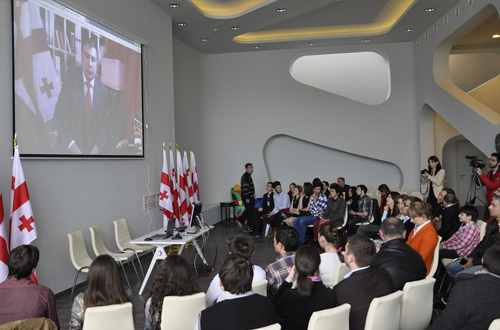 Ex-president Mikheil Saakashvili addresses via live video link audience during a soft opening of Saakashvili President Library in Tbilisi on April 22. Photo: InterPressNews
Saakashvili Presidential Library held its soft opening in a newly built building in Tbilisi on April 22.
Mikheil Saakashvili, who held groundbreaking ceremony of construction in October 2013 before the expiration of his presidential term and month before leaving the country, addressed opening ceremony, attended by a group of students and journalists, via live video link from the United States.
Saakashvili said that the library was built as a result of private donations and his personal savings, as well as with the help from his uncle, Temur Alasania, who bought the plot of land.
He said that he wants the library, which currently includes books mostly about politics, social science and architecture, to be an "open, democratic space" mainly for students. Saakashvili said that power should belong to the new generation and "this library is my humble contribution to prepare foundation for that and to say goodbye to the past."
The library, located in Tbilisi center close to the technical university, is run by a nonprofit entity, chaired by Andro Barnovi, who was chief of Saakashvili's presidential administration for about seven months in 2013. The library, which is not yet fully completed, will currently be open for few hours a day.
Saakashvili said that the plan is to also invite high-profile speakers, including foreign dignitaries, former or current high-level officials, in library's conference hall for lectures and panel discussions.
Asked when he would arrive in Georgia to deliver lecture in the presidential library, Saakashvili responded that it would happen "much sooner" than ex-PM Bidzina Ivanishvili can imagine.
"There are two countries where I have problems to visit, these are Russia and Georgia," he said.
He said that he was "blacklisted" and barred from entering Ukraine during last couple of months of Viktor Yanukovych's presidency.
"But that black list lasted for only two months" in Ukraine, Saakashvili said. "It will be over in Georgia too and it will happen much sooner than Ivanishvili can imagine it."
In March Saakashvili was summoned by prosecutors for questioning in connection to multiple cases, which are currently being investigated. The ex-president rejected to arrive in Georgia and appear before prosecutors; then the prosecutor's office offered him questioning via video link, but it was also rejected by the ex-president. Saakashvili reiterated on April 22 that he would only testify as a witness via video link before court and not before prosecutors if any of the cases over which prosecutor's office wants to question him go into trial.