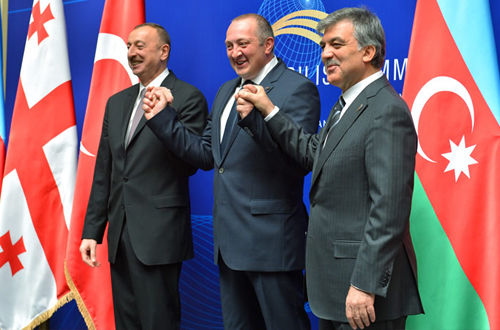 Azerbaijani President Ilham Aliyev, Georgian President Giorgi Margvelashvili and Turkish President Abdullah Gül at the trilateral summit in Tbilisi, May 6, 2014. Photo: Turkish president's press office
Azerbaijani, Georgian and Turkish presidents, who were gathered in Tbilisi for the first high-level trilateral summit on May 6, have praised close cooperation between the three countries and pledged to further boost the ties.

Georgian President Giorgi Margvelashvili said that the results of long-standing cooperation between Azerbaijan, Georgia and Turkey are "impressive", which have positive outcome for the entire region.
Azerbaijani President Ilham Aliyev also stressed on "excellent results" of trilateral cooperation.
"The main result of this summit is demonstration of our trilateral friendship, which is important for the entire region," President Aliyev said. "This cooperation should be an example for other countries."
Aliyev offered his Turkish and Georgian counterparts to hold next high-level trilateral summit in Azerbaijan.
Turkish President Abdullah Gül also spoke about importance of close cooperation between the three countries and said: "We have made the high mountains [of the Caucasus] a gateway to cooperation rather than a wall of obstacles."
President Gül reiterated Turkey's support to the territorial integrity of Georgia and Azerbaijan. He said that crisis in Ukraine was also discussed during the summit; he said that this crisis has a negative impact on the entire region.
The focus of the summit, according to the officials, was joint energy and transportation projects, among them Baku-Tbilisi-Kars railway, which is currently under construction and which will connect Azerbaijan with Turkey via Georgia.
According to Georgian Economy Minister, Giorgi Kvirikashvili, the railway is expected to be put into operation before the end of 2015.
Before wrapping up his visit on Tuesday evening, Azerbaijani President held bilateral talks with his Georgian and Turkish counterparts; President Aliyev also met Georgian PM Irakli Garibashvili.
After the summit, Turkish President Abdullah Gül continued his visit, which will last till Wednesday afternoon, by participation in the Georgian-Turkish economic forum. A large group of Turkish businessmen, working in the fields of energy, construction, agriculture and tourism, participated in the forum.
In his address to the forum Georgian PM Irakli Garibashvili said Turkey is Georgia's "reliable ally, strategic partner and friend, which supports our territorial integrity and Euro-Atlantic integration."
"It is good to have such a partner and strong state as a neighbor," the Georgian PM said.
He said that Georgia spares no efforts to complete construction of its section of the Baku-Tbilisi-Kars railway as soon as possible.
PM Garibashvili also stressed that Azerbaijan, Georgia and Turkey should coordinate policies and reforms in order to secure competitiveness of the transit corridor running through these three countries.