Georgian President Giorgi Margvelashvili and French President Francois Hollande review the Georgian soldiers, who will be deployed in June in the EU mission in the Central African Republic. President Hollande praised Georgia's decision to contribute troops to this French-led mission. Photo: French president's office
French President François Hollande, who visited Tbilisi on May 13, praised Georgia's progress and reiterated support to country's territorial integrity and European aspiration.
He called on the Georgian authorities to focus on implementing the Association Agreement, which Georgia and the EU will sign in June, and not to hurry with "other perspectives" with the EU – apparently referring to membership perspective. The French President said being in a rush in this regard will only "make things complicated."
Georgia was the last leg of French President's three-day trip to three South Caucasus countries, which also took him to Azerbaijan and Armenia.
"I wanted to conclude this long journey in the South Caucasus with Georgia to remind the support of France to your country, its territorial integrity, its development and its European aspiration," he said.
During his seven-hour stay in Tbilisi, President Hollande met PM Irakli Garibashvili, delivered a speech at the French-Georgian economic forum and held talks with his Georgian counterpart Giorgi Margvelashvili.
The last time when French leader visited Georgia was in October, 2011 when then President Nicolas Sarkozy delivered an outdoor speech in Tbilisi center during a brief visit also as part of his trip to the South Caucasus countries; Sarkozy mediated cease-fire agreement between Georgia and Russia during the August, 2008 war, which Tbilisi says remains unfulfilled by Moscow.
Speaking at a joint news conference with his Georgian counterpart, President Hollande said that Georgia's territories remain occupied and the cease-fire agreement is not fully respected.
While thanking France for its mediation in the August, 2008 war, President Margvelashvili also said that the cease-fire treaty is not fully observed by Russia. Situation that is playing out now in Ukraine, Margvelashvili said, is repetition of policy that Russia started in 2008 in Georgia.
The French President stressed for multiple times during the visit about importance of Georgia's decision to contribute troops to the EU military operation in the Central African Republic (CAR).
About 150 Georgian soldiers from the Batumi-based light infantry battalion, which completed its tour of duty in Afghanistan's Helmand province earlier this year, will be deployed in CAR in the French-led mission in June.
The unit has already undergone pre-deployment training, including with participation of the French military instructors, according to the chief of staff of the Georgian armed forces major general Vakhtang Kapanadze.
During his brief meeting with Foreign Minister Maia Panjikidze the French President said that Georgia's intention to send troops to the Central African Republic demonstrates well what Georgia can do in frames of the EU "as a partner at this stage, and as a member state in the long-run perspective, but before that we should observe every stage of this process of course."
In opening remarks at the joint news conference, unlike his French counterpart, President Margvelashvili touched upon Georgia's NATO integration and said that with its progress and contribution to the international security, including through providing troops to ISAF mission in Afghanistan, Georgia expects "adequate support" from NATO allies at the alliance's summit in Wales in early September.
Georgia wants to get Membership Action Plan (MAP) at the NATO summit in Wales, but there is no consensus about the issue within the alliance. The French President said at the news conference when responding a question on Georgia's security that Georgia will be part of the agenda of the upcoming NATO summit.
Bloomberg reported quoting an official from the French President's office traveling with President Hollande that Georgia's NATO membership should not be rushed. The official was also quoted that Russia is wary of NATO and extending membership of the alliance to Georgia would be seen by Russia as an act of aggression.
A senior lawmaker from the Georgian Dream ruling coalition, Tedo Japaridze, said in his opinion piece, published on May 13, that "to deny Georgia a Membership Action Plan at September's NATO summit would be to confirm to Russia that the West will always give in to Moscow's pressure tactics."
Georgian Foreign Minister, Maia Panjikidze, said that Georgia's NATO integration was part of the talks with the French President. She said that Georgia is ready to make "next step" on the path of NATO integration. She also said that discussions will continue in the lead up to the NATO summit about what this "next step" might be.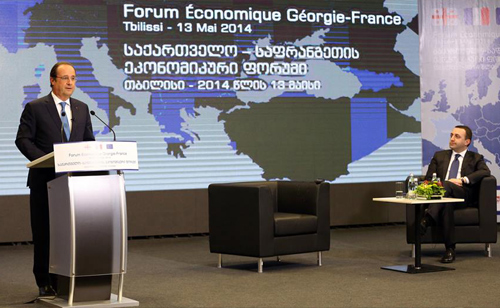 French President François Hollande and Georgian PM Irakli Garibashvili at the Georgian-French economic forum in Tbilisi, May 13. Photo: Georgian PM's office
After the meeting earlier on May 13, President Hollande and Prime Minister Irakli Garibashvili addressed the Georgian-French economic forum.

President Hollande said in his speech that the joint economic forum in Tbilisi demonstrated confidence France has in Georgia's development, as well as showed France's willingness to stimulate bilateral economic ties.
The French President noted "stable" and "predictable" legislative and fiscal framework, as well as Georgia's geographic location and government's political will to modernize economy and to continue reforms as important factors for attracting investments.
He also noted Georgia's importance as a transit route for energy resources, which, he said, is important for Europe, which seeks to diversify its energy supplies.
In his address to the forum, Georgian PM Garibashvili said that France is Georgia's "friend" and "partner country."
"We value highly France's support to Georgia's territorial integrity and our EU and NATO integration," PM Garibashvili said.
He said that efforts should be made to enhance the untapped potential of bilateral trade and economic ties.

Asked about timeframe in which Georgia plans to meet all the requirements under the Association Agreement, Garibashvili responded: "We understand that this process is not painless and that many principle issues have to be tackled in quite a short period of time, but we also understand that it should not be done rigidly. We should take into account interests of local entrepreneurs and do it without damaging their interests. We have a vision and concrete action plan how to implement it and we are very optimistic that we will be able to accomplish it in a short period of time and do it painlessly. We are following the action plan presented by the EU."