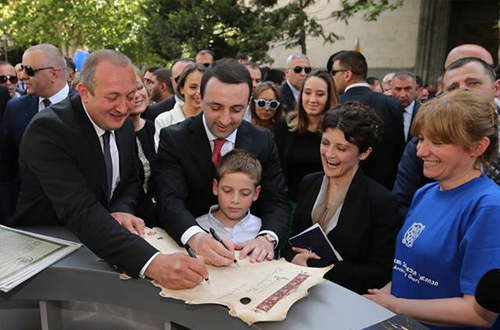 President Giorgi Margvelashvili and Prime Minister Irakli Garibashvili sign an informal document, symbolizing celebration of Georgia's Independence Day on May 26, 2014. The two took a walk together on Rustaveli Avenue, visiting outdoor events marking the Independence Day; Justice Minister Tea Tsulukiani seen standing next to PM Garibashvili. Photo: PM's office
PM Irakli Garibashvili said on May 27 he will sign the Association Agreement without requiring any authorization or additional authority to be delegated from the President.
Dispute between the presidency and government about who should sign the Association Agreement with the EU in Brussels on June 27 took a new twist on Tuesday when president's office announced that in order to avoid questioning legitimacy of signature, President Margvelashvili "delegated" his right to sign the treaty to the PM.
This act of "granting" the right was done through a presidential order, which requires approval, or as it is called "countersignature", from the PM. But if countersigned by the PM it would amount to acknowledging that the president's office was right when claiming the right to sign the treaty – something that is disputed by the PM's office, which claims that the government, not the President, has the right to decide who should sign the agreement.
"I do not have to countersign anything; I do not need any additional rights. We are doing what is written in the constitution. I do not need any additional authority. I have a relevant authority to sign this agreement," PM Garibashvili told journalists when asked to comment on President's decision.
Garibashvili also said that in search for "scandals" media is "overblowing" the issue.
Earlier on May 27 President Margvelashvili told journalists that his decision to "delegate" his authority to sign the treaty aimed only at "removing question marks" over this issue. He also said that the Association Agreement is very important for the country and "there should be no squabbles here."
Under the constitution the President represents the country in foreign relations; but the President has the right to negotiate and sign international agreements only with the consent of the government.