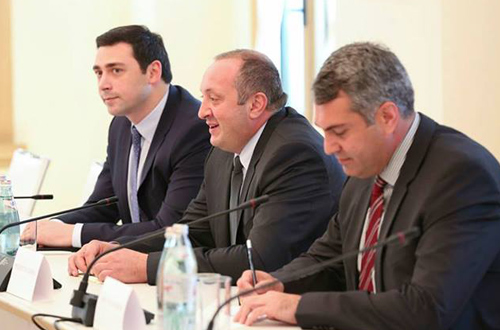 From left to right: Lasha Abashidze, former chief of president's administration; President Giorgi Margvelashvili and president's former foreign policy adviser Vano Matchavariani, June 2, 2014. Photo: president's administration
(UPDATE: adds Matchavariani's comments in fourth and fifth paragraphs)
Chief of President's administration Lasha Abashidze and President's foreign policy adviser Vano Matchavariani have resigned.
President Giorgi Margvelashvili signed an order on June 13, which says that Abashidze and Matchavariani were dismissed upon their "own initiative."
Reasons behind their resignation were not immediately clear. Abashidze said he had "no conflict whatsoever" with President Margvelashvili; he also said that his deputies and head of the logistics service of the president's administration have also resigned.
Matchavariani said that he filed for resignation upon the President's "request." He, however, declined at this stage to speak about details.
"I was involved in Giorgi Margvelashvili's election campaign, and then I became his adviser in the president's administration upon his request and worked there as we have longstanding friendship; and now upon taking into account his request, I filed for resignation," Matchavariani told Civil.ge via phone on June 13.
Abashidze and Matchavariani were appointed in the president's administration after Margvelashvili took office seven months ago.