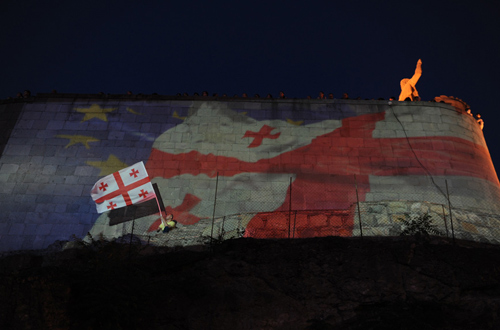 A man with a Georgian flag sits as the Georgian and EU flags are projected on the wall of Metekhi Church in downtown Tbilisi on June 27, 2014 during celebration of signing of the Association Agreement with the EU. Photo: Eana Korbezashvili/Civil.ge
President Giorgi Margvelashvili, PM Irakli Garibashvili and Parliament speaker Davit Usupashvili addressed late on Friday crowd gathered in downtown Tbilisi for an outdoor concern celebrating signing of the Association Agreement with the EU.
Their speeches followed an address by head of the Georgian Orthodox Church, Patriarch Ilia II.
PM Garibashvili, who signed the agreement in Brussels earlier on Friday, told the crowd gathered on Europe Square: "I salute every citizen of Georgia; I salute our Abkhazian and Ossetian brothers."
"I congratulate you on this really historic day. This is the day that we will remember, the day, which we will be proud of," he said in his brief address. "This victory belongs to our ancestors, this is a deed launched by our great ancestors, this is the day our great Kings, great Georgians, Ilia [Chavchavadze, a 19th century Georgian public figure], Vazha-Pshavela [late 19th/early 20th century Georgian poet and writer] dreamed of."
"This is only the beginning of a huge victory," Garibashvili said. "As the [head of the Georgian Orthodox Church] Patriarch [Ilia II] said we should enter into the European family of course with our uniqueness, with our huge culture and our traditions. We believe that we are part of the civilized called the European family."
Parliament speaker, Davit Usupashvili, said: "Georgia is free; it made its free choice and took a step towards Europe."
"Europe is not perfect; we know it's not a heaven, but we also know that the Europe is freest, the most just, the most secure place – the place where national identity is best protected even for the smallest nations, that's why we made this historic choice and are joining Europe," Usupashvili continued. "We, the small nation, are not worried that we are joining large Europe, because 13 states out of 28 EU member states are smaller than Georgia and 9 out of 28 [member states] have population smaller than Georgia, but these very small nations, these countries found peace and favorable conditions for development in the united Europe – that's the choice made by Georgians. 40 million co-religionist Orthodox Christians, along with followers of other religions, are waiting for us in Europe; so we are not going into unfamiliar environment; we are returning back where we always belonged. At the same time by association with Europe we are not going anywhere from Caucasus, from our history, from our culture; on the contrary we stay here in order to get stronger and to better present ourselves and our culture to the world. We will continue good neighborly relations with all the neighbors who want it, regardless of different choices we make. We will take efforts to make Caucasus peaceful and the Europe will only contribute to this."
"I want to thank many Georgian politicians – representatives of current government and previous governments, who have worked harmoniously for this specific cause; such unity over these specific issues is needed for building European state," Usupashvili said and also thanked PM Garibashvili and President Margvelashvili.
"But the work for government, parliament starts now and I am sure that we will handle this laborious, but very honorable task," the parliament speaker said.
In his address President Margvelashvili congratulated signing of the Association Agreements to "our brothers in Ukraine and our brothers in Moldova."
"They are also celebrating this day together with us," he said.
"I want to thank our parliament for its work, I want to thank the government for its efforts – their work should be assessed positively and we should appreciate it. But I want to say the biggest thank you to the Georgian people, which has achieved all this, and to the spiritual leader of our country, his holiness [Patriarch Ilia II] for giving us very correct accents on this path," Margvelashvili said and also told the crowd gathered on the Europe Square: "I love you and I will be with you towards future victories."