Partner post from the Caucasus Research Resource Centers
On June 27,2014 Georgia, Moldova, and Ukraine signed EU Association Agreements. In Georgia, the signing has been celebratedas a step towards Euro-Atlantic integration, and a number of events were held in Tbilisi to celebrate the signing. The Association Agreement (AA) itself is wide ranging with some portions pertaining to human rights and the main focus on economic cooperation between the EU and Georgia. While the agreement has been highly anticipated by certain groups within Georgian society, there has been controversy, particularly as the association agreement relates to the protection of minority rights. A recent article on Foreign Policy Magazine's website, and an accompanying case study by the Legatum Institute, argue that skepticism towards the EU may pop up in Georgia, in part, due to the EU's seeming lack of engagement with the country over time. However, this trend is not new as Adrian Brisku notes in his 2013 comparative history of Georgia and Albania, Bittersweet Europe. With this background in mind, this post looks at how Georgians perceived both the EU and the Association Agreement approximately one year before the signing of the agreement. The post will review knowledge of the Association Agreement in Georgia in 2013 by settlement type and ethnic composition, expectations for the agreement by age group, and trust in the EU over time.
According to the 2013 survey, Knowledge and Attitudes toward the EU in Georgia, which was a part of the Eurasia Partnership Foundation European Integration program, 20% of Georgian citizens reported that they had heard of the EU Association Agreement. Awareness of the association agreement was highest in the capital with 30% of Georgians reporting they had heard about the association agreement. In urban and rural settlements 17% and 16% of Georgians respectively reported that they had heard about the Association Agreement.
As the graph below demonstrates, Armenian and Azerbaijani minorities in Samtskhe-Javakheti, Kvemo Kartli and Kakheti were much less likely to be aware of the Association Agreement compared to their fellow ethnic Georgian citizens. Low levels of awareness of the Association Agreement among ethnic minorities are likely due to low levels of knowledge of Georgian language in ethnic enclaves. These groups also have less access to media which is in the Georgian language. In addition, there is a lower level of internet usage reported by minorities in the aforementioned settlements (12% daily usage, 62% never using the internet), especially compared to ethnic Georgians in the capital (51% daily usage, 29% never using the internet). This is a likely barrier to access to information.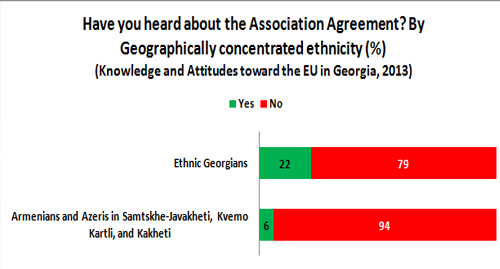 People who said they had heard about the Association Agreement were asked what they thought the agreement could bring to Georgia. Survey respondents were asked to select one answer from a list provided on a show card. Looking at the results of this question by age group shows an interesting trend. Half of young people (18 to 35) stated that the agreement would result in political closeness and tight economic integration with the EU - the stated purpose of the agreement. In contrast, those aged 35 to 55 were more likely to report EU membership for Georgia as a result of the agreement. This outcome is not ruled out by the agreement, and in some instances, the agreement has served as a stepping stone on the path to EU membership. However, it is not an explicit or likely near-term result of the signing. Notably, a number of countries which are highly unlikely to want or be considered for EU membership have signed Association Agreements, including Algeria and Chile among other countries.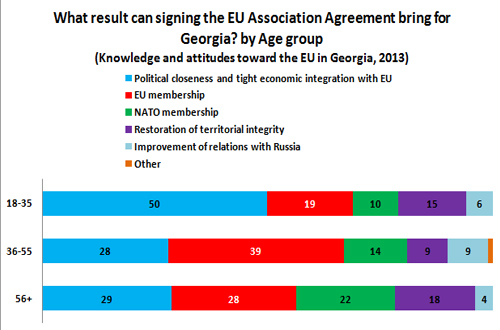 The graph below shows trust in the EU over time in Georgia. In 2008 trust in the EU was at 64%, followed by a slight decrease in trust which remained stable from 2009 to 2012. Interestingly, in 2013, a decrease in the level of trust occurred with trust responses dropping 16 percentage points, distrust increasing by seven, and neither trust nor distrust increasing by eight percentage points. Thus, a more ambivalent attitude towards the EU appears to have emerged in 2012 and 2013.
NOTE: Respondents were asked "Please tell me how much do you trust or distrust the European Union?" In the graph above, 'fully trust' and 'somewhat trust' are combined to form "Trust" and 'somewhat distrust' and 'fully distrust' are combined into "Distrust".
This post has shown that awareness of the Association Agreement in Georgia is lower among ethnic minorities than ethnic Georgians in Georgia, likely due to lack of access to Georgian-language media and knowledge of Georgian. It has further discussed expectations among different age groups for the agreement, showing that young adults in Georgia expect closer ties from the agreement, while 36-55 year olds are more likely to believe that the agreement will lead to EU membership. Finally, the post looked at trust in the European Union over time. While distrust has not increased, ambivalence does seem to be spreading among Georgians, particularly in 2013. To further explore issues related to international organizations and the EU in Georgia, and the South Caucasus more generally, we recommend exploring our datasets here or using our Online Data Analysis Tool here. Readers may also be interested in the blog, Can't get no satisfaction. Who doesn't want to join the EU? published in March 2014 on the CRRC blog.
About the author:
Dustin Gilbreath is a research consultant at the Caucasus Research Resource Centers