Breakaway Abkhazia will hold snap presidential election on August 24, less than three months after Alexander Ankvab was forced out of office as a result of street protests.
This is the second early presidential election in the breakaway region in three years and the fourth presidential race in less than a decade.
MP Raul Khajimba, 56, leader of Forum of People's Unity of Abkhazia and one of the key figures behind protests that ousted Ankvab in late May, is one of the candidates in the four-man race for presidency.
He ran, unsuccessfully, in three previous presidential polls losing the race twice to late Sergey Bagapsh – in 2005 after fiercely disputed elections they agreed to share power with Khajimba becoming the vice-president, and once to Ankvab in 2011.
Abkhaz observers and analysts suggest that Khajimba is believed to be a frontrunner this time. Vitaly Gabnia, chairman of union of the Abkhaz war veterans, Aruaa, and one of the leading figures behind protests against Ankvab, is Khajimba's vice-presidential running mate.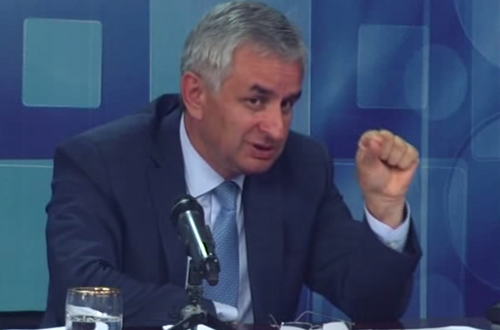 Raul Khajimba, who graduated KGB's academy in Minsk in mid-1980s, was the breakaway region's vice-president in 2005-2009. He took that post as a result of a power-sharing agreement with then Abkhaz leader Sergey Bagapsh following a fiercely disputed presidential election in 2004 in which Khajimba was openly supported by the Kremlin. In 2009 presidential election in which Bagapsh was re-elected, Khajimba was second with 15.4% of votes. In the 2011 election in which Alexander Ankvab won the presidency, Khajimba was third in the race with less than 20% of votes.
Khajimba's main rival is Aslan Bzhania, 51, who served as chief of the state security service for more than four years up until July, 2014. Both Khajimba and Bzhania are graduates of KGB school in the Soviet Union.
"You are my main opponent," Khajimba told Bzhania during the televised debates between the candidates on August 18.
Bzhania is supported by Amtsakhara, a pro-Ankvab political party, and chief of his campaign is ex-PM and Ankvab's close ally Leonid Lakerbaia.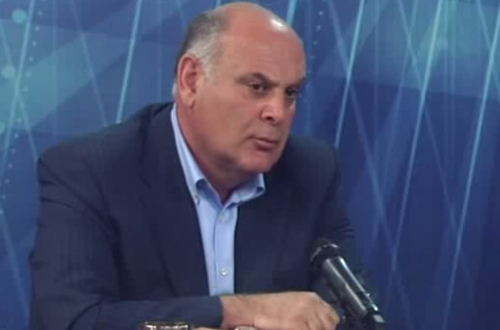 Aslan Bzhania lived in Russia for about sixteen years since 1994 running his businesses, including, as he said, in tourism sector. He worked for breakaway Abkhazia's "embassy" as an "adviser" in Moscow in 2009, before being appointed as chief of the Abkhaz state security service in February, 2010 by then president Sergey Bagapsh; he retained the post under the presidency of Ankvab.
Two other candidates are Merab Kishmaria, 53, who was the defense minister for past seven years, and Leonid Dzapshba, 53, who served as the interior minister for slightly over a year before quitting in October, 2011. The latter was in the opposition movement, which ousted Ankvab.
If the race goes into the second round between Bzhania and Khajimba, the latter can count on support of two other candidates, according to Abkhaz observers.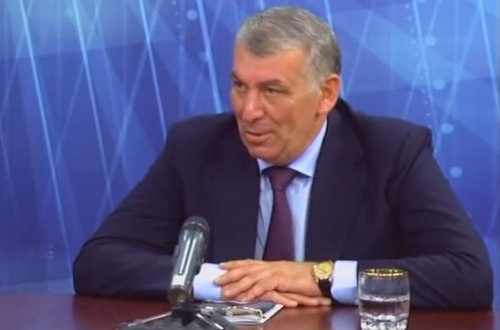 Merab Kishmaria was a commander of the Abkhaz forces on the eastern front during the armed conflict with Georgia in early 1990s; he served as the breakaway region's defense minister for seven years since June, 2007.
While avoiding attacks against each other during active campaigning ahead of the elections the three candidates – Khajimba, Kishmaria and Dzapshba, were leveling allegations of vote-buying against Bzhania.
This confrontation between Bzhania and three other candidates was visible during the first ever televised debates of presidential candidates in Abkhazia on August 18.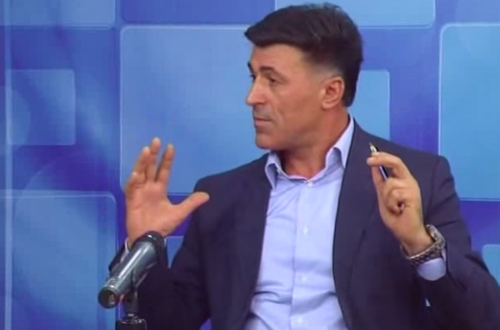 Leonid Dzapshba served as the interior minister for slightly over a year before quitting in October, 2011, two months after Alexander Ankvab won presidency in 2011 early elections. Like Khajimba, Dzapshba was also a member of the opposition movement that ousted Ankvab from presidency.
Khajimba, who was the most active during the debates, challenged Bzhania over allegations of vote-buying and accused him of failure to address misspending of Russian aid funds under Ankvab's presidency, when Bzhania served as chief of the state security service.
"If there were any violations, it is up to the prosecutor's office to react. I also can speak much about rumors, but I would not like to waste time on it," responded Bzhania for whom this campaign was the first time when he became involved in public politics.
"Do you think that these are only rumors?.. What are you talking about? Do you mean that we are chatterboxes sitting here and gossiping and we see and hear nothing? Don't insult us," Kishmaria told Bzhania. "Money come and go. Bribing will be over too, you won't be able to feed them forever… They [referring to two other candidates – Khajimba and Dzapshba] are right when they say that we know everything. I phoned you and told you not to do it, not to bribe [voters]."
Kishmaria, Dzapshba and Khajimba also criticized Bzhania during the TV debates for driving bulletproof car and employing services of private security guard. Bzhania responded that he had a reason to resort to heightened security measures, which he did not elaborate.
There was much talk during the campaign about the need to maintain unity within the society no matter who wins, as well as about the need for a constitutional reform to provide a better system of checks and balances.
On August 22 all four candidates signed a joint declaration on "measures of achieving national unity and reforming political system" in which the candidates have pledged to form a coalition government after the presidential election.
"After the elections, executive government will be formed based on coalition, envisaging involvement of professionals from various political parties and supporters of presidential candidates," Abkhaz news agency, Apsnipress, reported citing text of the joint declaration. "Consultations with the participation of candidates and representatives of election headquarters will be held after the elections in order to agree on candidacies."
According to the declaration, the candidates also pledged that no matter who wins they would contribute to the process of constitutional reform to reshape existing separation of powers between the branches of the government within a year.
The candidates also agreed to set up "a consultative council with the participation of three representatives from each presidential candidate for the purpose of broadening dialogue and reacting promptly on possible crisis situations."

There are about 131,000 voters eligible to cast ballot in Sunday's election, according to the breakaway region's Central Election Commission.
The figure is less than it was in 2011 presidential and 2012 parliamentary elections as thousands of ethnic Georgians, residing in eastern parts of the breakaway region, were removed from voters list.