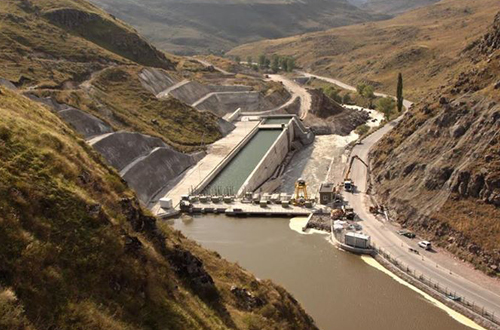 Run-of-the-river Paravani hydroelectric plant. EBRD photo
Energy sector development and "rational" use of Georgia's hydropower potential is of huge importance for the economic growth, PM Irakli Garibashvili said on October 11 at an opening ceremony of 87 MW run-of-the-river Paravani hydroelectric plant, the largest hydropower project implemented in the country in last 35 years.
Located in Samtskhe-Javakheti region, close to the Turkish border, Paravani HPP has a 14 km derivation tunnel to divert water from the Paravani river to the powerhouse, which is linked with the national grid through 35 km 220 kV transmission line.
The plant is operated and owned by Georgia Urban Energy in which Turkish conglomerate, Anadolu Group, holds 90% of stake and the rest is owned by the European Bank of Reconstruction and Development (EBRD), which provided USD 52 million financing for the project in 2011 – the bank's first investment in Georgia's renewable energy sector. USD 40.5 million came from the IFC, a member of the World Bank Group and a further USD 23 million was raised from commercial banks. According to the Georgian Energy Ministry total of about USD 200 million was invested in the project.
The hydro power plant will supply electricity to the Georgian market during the winter period and export power to the Turkish market in the remaining nine months of the year.
"This power plant is a landmark project as the first private, large-scale renewable power generation project in Georgia which will also have a cross-border dimension," Bruno Balvanera, EBRD's director for the Caucasus, Moldova and Belarus, said.
Speaking at the opening ceremony, which was also attended by Turkish Minister of Energy and Natural Resources, Taner Yildiz, PM Garibashvili said that this project "has been successfully implemented together with our Turkish friends and partners."
"Paravani HPP is yet another step forward towards strengthening of the Georgian economy. This is yet another example of close Georgian-Turkish cooperation," Garibashvili said.
Apparently referring to concerns of some environmental groups over large-scale hydro power projects, the PM said that government's goal is to use country's rich hydropower potential "rationally."
"I want to stress that all the decisions of the Georgian government are based on qualified analysis and we will develop our energy sector in a way that will not cause any question mark," Garibashvili said.
Also on October 11, Georgian Energy Minister Kakha Kaladze signed two memorandums of understanding with Turkey's Çalık Enerji and Ahlatcı Group on development and construction of several hydropower plants in western Georgia.
The tentative agreement with the Çalık Enerji envisages construction of cascade of hydroelectric stations in Racha-Lechkhumi and lower Svaneti regions, involving 153 MW Sadmeli HPP and 70.6 MW Alpana HPP. An estimated cost of the project is USD 485 million, according to the Georgian Ministry of Energy.
Deal with Ahlatcı Group involves construction of 30 MW Dolra 3 HPP in Samegrelo-Zemo Svaneti region with an estimated investment of USD 41.4 million.