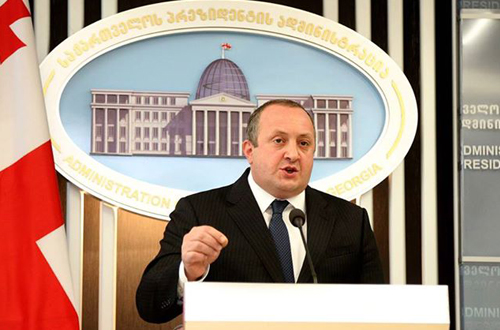 President Giorgi Margvelashvili, October 31, 2014. Photo: President's press office
President Giorgi Margvelashvili has vetoed Parliament's decision extending deadline for tackling security agencies' unrestricted capability of direct access to telecommunications service providers' networks from November 1 to February 28, 2015.
In his objections the President has offered to extend the deadline only till December 1.
"I decided today to veto the bill on electronic communications. This decision is caused by number of reasons," President Margvelashvili said in a three-minute live televised statement on Friday noon.
"The first one is that there is a strong consensus in our society that position should be defined over this issue and we should move to modern form of functioning of the special services," he said.
"I was born in the Soviet Union, where I knew that KGB was eavesdropping on us," the President continued. "Then I lived in the post-Soviet Georgia, where Saakashvili's regime made illegal surveillance as the symbol of strengthening of the state and then all of us delivered a verdict to this regime."
"It means that two years after [formerly ruling UNM party was defeated in elections] we should make an issue on which there is a consensus within the society into law," Margvelashvili said.
He then welcomed civil society's engagement in the process, which "was very active from the very beginning." The civil society groups, which have been lobbying actively for depriving the Interior Ministry of its capability of direct access to telecom operators' servers giving security agencies ability to carrying out surveillance without any oversight, had called on the President to veto the bill, which was passed by the Parliament on October 30.
President Margvelashvili praised the new law adopted by the Parliament in August, which set tighter rules for the law enforcement agencies to carry out surveillance activities, including through introduction of higher standards of justification required for security agencies to obtain court warrant on surveillance, as well as through increasing authorities of the personal data protection inspector.
But legislators left key issue, involving security agencies' unrestricted capabilities of direct access to telecommunications service providers' networks, unaddressed. Adopted amendments set November 1, 2014 as deadline for adopting a law to address this long-standing issue.
"But very significant issues have been delayed, which was then again followed with a delay from November 1 to some later date [February 28, 2015]," Margvelashvili said, adding that "this trend" of postponement "is not new in our Parliament".
He was apparently referring to a decision of the Parliament in December, 2013 when introduction of new rule of questioning of witnesses was delayed for two years. At the time President Margvelashvili was reportedly considering vetoing of this proposal, but eventually signed it into law.
"We should be adopting faster those laws on which there is a full consensus in the society," the President said.
"So I call on the Parliament to adopt this law as soon as possible and to do the main thing – to restore confidence between the public and the executive branch of the government," he said.
Decision to extend the deadline was passed by the Parliament with 65 votes to 31. Among those who voted against were some lawmakers from the Georgian Dream ruling majority, mostly from the Free Democrats party.
Parliament will require votes of at least 76 MPs to overturn the presidential veto.
During the debates in the Parliament on October 30, just before the vote, parliament speaker Davit Usupashvili, who gave his lukewarm support to extending of the deadline, called on the President not to veto the proposal. He said that in the current situation there was no better option except of postponing the issue
"If not extended we will face a reality wherein there is no legal framework, no new rules how to arrange the system, and the investigative agencies will have no legal framework for carrying out any [surveillance] actions at all starting from November 1," Usupashvili said.
With this decision Parliament has also delayed till February 28, 2015 to adopt data retention regulations. Regulations should define where data – it involves records which can identify a caller and date, place, duration and the means of communication, but not the content of the communication itself – will be retained and for how long.
President Margvelashvili said in his live televised statement on October 31 that in a democratic society any problem, including fight against crime, can be solved through "maximum of engagement and trust from the society."
"We should make a step in this direction and actively engage with the society," Margvelashvili said. "Confidence should be restored and the restoration of confidence should be launched by politicians."
"Therefore, I am vetoing this bill based on these arguments and I hope that the Parliament will share my position," President Margvelashvili added.