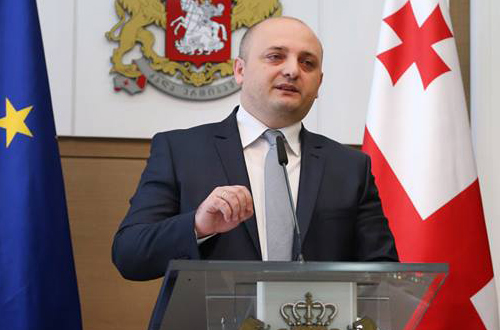 New Defense Minister, Mindia Janelidze, speaks with journalists on November 5, 2014. Photo: PM's office
Newly appointed Defense Minister, Mindia Janelidze, said that "course of development of the armed forces" oriented towards Euro-Atlantic integration will remain "unchanged".
Janelidze, 36, who has replaced Irakli Alasania after the latter was sacked by PM Irakli Garibashvili on November 4, is not a political figure and is little-known to wider public.
Before being promoted to the minister's post, Janelidze served as PM Garibashvili's security adviser and secretary of the state security and crisis management council. Before that he was director of the counter-intelligence department at the Ministry of Interior since late 2012 when Garibashvili held the post of the Interior Minister.
According to his official biography he graduated counter-intelligence courses at the Georgian state security ministry's academy and then served in the Georgian intelligence department in 2000-2012.
"I am confident that he [Janelidze] will be much better Defense Minister than his predecessor [Alasania]," PM Garibashvili said when presenting the new Defense Minister on November 5. "Most importantly I am confident that he will serve with dedication and dignity to the Georgian army and will further strengthen the Ministry of Defense and our armed forces."
Janelidze said that his leadership of the Defense Ministry will be based on several key principles.
"The course of development of the armed forces will remain unchanged and it implies the choice of the Georgian people and the choice of our government, which is oriented towards Euro-Atlantic integration. We will spare no effort to further get closer to NATO and to increase interoperability of our armed forces with NATO. We will also continue our active cooperation with our strategic partner – the United States, as well as with Britain, France, Germany and with other friends of Georgia," Janelidze said.
"Respect of each and every serviceman of our armed forces will be another major principle," the new Defense Minister said.
"The course of the government towards depoliticization of the armed forces will also be continued," he said. "The armed forces represent cornerstone of country's national security, therefore the army should be free from any politics."
"My leadership will be based on rule of law, transparency and efficiency," Janelidze said.
When asked about his successor, Ex-Defense Minister Irakli Alasania said late on November 4 that Janelidze is a "patriot" and expressed hope that he will continue reforms in the MoD.