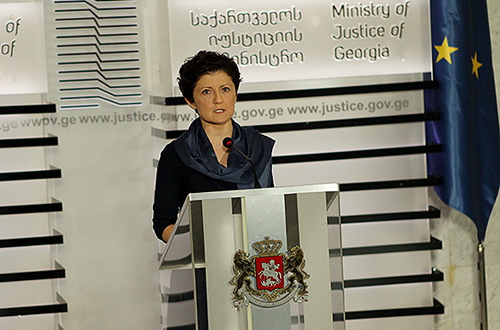 Justice Minister Tea Tsulukiani makes statement on series of sacking and resignations in cabinet, November 5, 2014. Photo: Ministry of Justice
Justice Minister Tea Tsulukiani said on Wednesday evening that she has no intention to step down.
"As long as I have full freedom to work for Georgia's European future, as long as me and my team in this ministry have freedom to work on reforms, which I deeply believe, lead Georgia to Europe and as I have and had no reason whatsoever to think that our government is not pro-European, me and my team remain in leadership of the Justice Ministry and continue working for the Georgian state," Tsulukiani said.
After Irakli Alasania, leader of Free Democrats party, was sacked from defense minister's post, his ally from Free Democrats party Alexi Petriashvili resigned as State Minister for European and Euro-Atlantic Integration; Foreign Minister Maia Panjikidze, Alasania's sister-in-law, also stepped down. They alleged that country's pro-western European course was under threat.
As Justice Minister Tea Tsulukiani is also affiliated with the Free Democrats party, there was a speculation about her possible resignation as well.
"What has happened and is happening is extremely regrettable," she said. "Each and every member of the government, led at first by Ivanishvili and then by Garibashvili, has made an invaluable contribution to strengthening Georgia's European choice, to making it irreversible and moving ahead on the path of progress."

"I have been leading the Justice Ministry since [late] 2012, where each employee is working for progress and several days ago this work resulted in a successful completion of the first phase of visa liberalization process and the European Union called this collective success of our government as 'one step closer' to Europe. It is very negative that recent regrettable developments have completely overshadowed this huge success," Tsulukiani said.
She said that despite of many difficulties, she and the Justice Ministry "have never been encountered by obstruction either the ex-prime minister or the incumbent one on this European path."
"We have never had differences with current or former ministers on the European choice. The political force, which came into power in 2012, was and is committed to the European course. This path is difficult and it remains the government's unwavering course, because Georgia has no good future without the European course," she said.