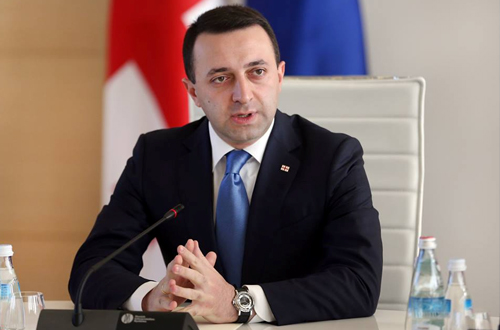 PM Irakli Garibashvili speaks at a meeting with his cabinet members on November 6, 2014. Photo: PM's office
PM Irakli Garibashvili lambasted leader of Free Democrats party, Irakli Alasania, whom he sacked from the defense minister's post, and said that defection of "such traitor" from the Georgian Dream coalition was even better.
Speaking at a meeting with members of cabinet – where foreign affairs and state minister for Euro-Atlantic integration portfolios remain vacant after Maia Panjikidze and Alexi Petriashvili stepped down following firing of Alasania – Garibashvili said that "people will learn lots of things and surprises" about Alasania.
"And it will be a shame for him and his team members, who will also learn many surprises about him," Garibashvili said.
Calling the ex-defense minister "adventurer, stupid and ambitious", Garibashvili said that Alasania's "completely irresponsible, absurd" allegations about Georgia's Euro-Atlantic choice being under attack are "damaging the country." He said that these allegations were made "in style" of opposition UNM party's "lies".
"Personally for me what Alasania has done is a betrayal of October 1, 2012 victory [of the Georgian Dream in parliamentary elections]. This is yet another attempt to deceive the Georgian people – he has done it more than once previously and our population will see it, they will see many surprises," Garibashvili said.
He also said that the recent developments have also caused "concern" of business community, but added that "nothing is happening and nothing will happen" that may undermine stability.
"We are not afraid of adventurers like Alasania… and we will of course easily overcome these absurd obstacles. What he has done, which was done in Saakashvili's style, raises many questions," the PM said.
Referring to Alasania's allies from Free Democrats party, Garibashvili said: "It is very regrettable that people, whom I consider to be our friends, appeared on his side; I am convinced in their sincerity, but regrettably they have also been misled and they will soon realize it that they are making a huge mistake as they made a choice between the person [Alasania] and the state. It's their choice and they will also share huge responsibility over their mistake."
"I want to firmly state to our population that we are the strong state, we are united, strong government and our strength is demonstrated in our democracy; our institutions work properly and there will be no obstacles either in the government or in the Parliament. There is no threat of crisis whatsoever. We will have strong majority in the Parliament and the government will continue to work with more efficiency," Garibashvili said.
"On the other hand it's not bad – the sooner such traitor people would have been sidelined from our team, the better for us and our people and the country," he said.
"We will have to work intensively for two more weeks to remove all those absurd questions, but we will do that. We are mobilized, united like a fist and we should carry on without any emotions," the PM said.
"Actually nothing is happening – just one adventurer, stupid and ambitious minister has quit and there is nothing bad in that," Garibashvili said.
He also said that Alasania was "lobbying" for the opposition UNM party.
"So for me all the questions are answered. His remarks two days ago that he's going to cooperate with everyone, with all 'pro-European' forces, including with the [United] National [Movement] was self-lustration," PM Garibashvili said, referring to Alasania's remarks made in an interview with the Rustavi 2 TV on November 4, but on November 5 Alasania ruled out possibility of political alliance of his Free Democrats party with UNM.