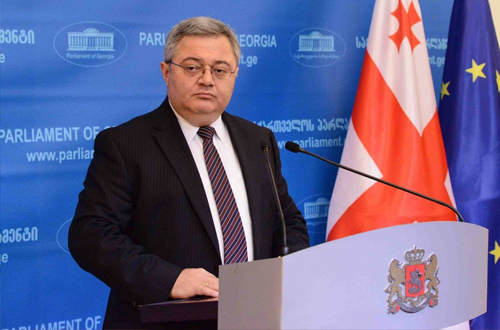 Parliament speaker Davit Usupashvili at a news conference on November 6, 2014. Photo: parliament press office
Parliament speaker, Davit Usupashvili, said that allegations about Georgia's Euro-Atlantic course being under threat are "groundless."
In his first public comments since sacking of defense minister Irakli Alasania, followed by resignations of foreign minister and state minister for European and Euro-Atlantic integration, Usupashvili said that recent developments have been "extremely undesirable."
He criticized handling of the MoD-related criminal investigation, which triggered fueling of GD infighting eventually leading to Alasania's sacking and his party's withdrawal from the ruling coalition. Usupashvili also said that "all key players" in these recent developments acted too hastily, which created problems.
"I want to state with full responsibility that despite of the recent developments in Georgia the course of the country's development and the government's policy remain unchanged," Usupashvili said. "Let me remind you that the key directions of the country's domestic and foreign policy courses are defined by the Parliament of Georgia and the Parliament of Georgia has defined this course not once, including most recently in July 2014, when we approved new government and its action plan. Thus, any suggestions that the country's Euro-Atlantic development faces any threat are groundless."
"If there was any threat to executing of this course, it was caused by resignations of several key ministers for various reasons," he said. "Of course, this created problems in terms of executing this course, because the key ministries were left without leadership. I am sure that very soon persons with relevant qualifications and relevant political views will take these posts and the country will continue its European integration, as well as successful implementation of the issues planned in the near future, including in relations with the European Union," Usupashvili said.
He then thanked three former ministers and said that they "made a very serious contribution to the country's progress in foreign policy direction."
"I want to express my regret that the Georgian Dream coalition, the Georgian Parliament and the Georgian government will no longer work with them," Usupashvili said.
When asked if he shares PM Irakli Garibashvili's remarks in which he earlier on November 6 called Alasania "adventurer, stupid, ambitious" and "traitor", whose defection from the Georgian Dream ruling coalition is even better, Usupashvili responded: "I have already spoke about my assessment of [recent events]. What has happened was extremely undesirable and decisions made by key players were hasty; statements that there is immediate threat of change of [foreign policy] course of the country are groundless."
Speaking about the MoD-related probe, the parliament speaker said: "Of course it was possible to investigate a particular criminal case without triggering such political cataclysms."
"I have an impression that all main participants of the process have wittingly or unwittingly hurried up excessively that triggered the problems we are now talking about," he said.
Usupashvili said that the decision of lawmakers from Alasania's Free Democrats party to quit the parliamentary majority group is "an important loss".
"I want to thank each member of Free Democrats for our joint struggle and work for the last three years and I am confident that even under conditions when they will no longer be the members of the majority group, we will still cooperate fruitfully for the benefit of our country," Usupashvili said.
Then in his capacity as the Republican Party member, Usupashvili also offered the Free Democrats to "continue working together in parliament and beyond for the benefit of the country."
He also said that the withdrawal of Free Democrats party from the parliamentary majority group may create some difficulties for the ruling coalition, but also noted presence of "informal majority" in the parliament – he was referring to GD majority, plus those lawmakers, who although formally are not part of either parliamentary majority or minority groups, but are usually more inclined towards voting in line with the GD coalition.
"Nothing good has happened, but there is nothing disastrous either that can paralyze the majority," Usupashvili said, adding that even without these recent developments the sitting Parliament was anyway "distinguished" from the previous ones with its diversity, which, he said, required much effort to reach agreement with various factions. He said that Free Democrats' withdrawal will make this process even harder.
He also said that the recent developments demonstrated the need for "better protection of the prosecutor's office from becoming in the epicenter of political processes." Usupashvili said that this issue was discussed by the Georgian Dream ruling coalition's political council and steps will be taken "soon" in order to give the Justice Minister "relevant legal levers" which would prevent chief prosecutor or his deputies from "voicing position or making explanations on political issues". After MoD and general staff officials were arrested on October 28, which was condemned by then defense minister Alasania, as politically motivated, prosecutor's office and deputy chief prosecutor Irakli Shotadze publicly criticized then leadership of MoD. Although under the constitution prosecutor's office is part of the Justice Ministry, with legislative amendments last year the Justice Ministry and the minister were actually completely sidelined from overseeing prosecutor's office.