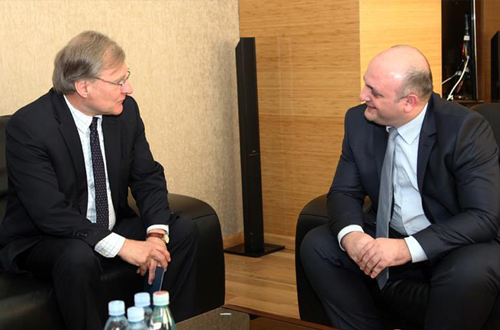 U.S. Ambassador to Georgia Richard Norland (left) and Georgian Defense Minister Mindia Janelidze (right), November 7, 2014. Photo: Georgian MoD
Georgia's new Defense Minister, Mindia Janelidze, who has replaced sacked Irakli Alasania, met on November 7 U.S. ambassador to Georgia, Richard Norland, and reiterated that the ministry will "continue and intensify" cooperation with the U.S. and NATO.
"I had a quite fruitful meeting with the U.S. ambassador. We have discussed our ongoing cooperation both in military-political and military-technical areas," Janelidze said. "I want to firmly reiterate the position of our government, our ministry, that our cooperation with our U.S. and NATO partners will actively continue in all the frameworks and it will be further intensified. Such readiness has also been expressed by the U.S. ambassador. So we are planning to continue ongoing [cooperation] issues and to put forth further new initiatives before our partners."
After the meeting the U.S. ambassador expressed appreciation for the previous defense minister Irakli Alasania's "close cooperation with the United States during his tenure as minister."
"We very much appreciate the new minister Mindia Janelidze's invitation to come and meet this morning," Ambassador Norland continued. "He made a point in saying that given that the United States is Georgia's primary strategic partner, symbolically he felt it was important to have the American ambassador be first visitor and we see this as a sign of continuity of our relationship on the military-to-military front and in bilateral security cooperation."
"The minister made very clear that there's no shift in Georgia's strategic direction, that Georgia's Euro-Atlantic aspirations remain as strong as ever and this was of course a very important message for us to hear and we appreciate it," Ambassador Norland said.
"And finally, he just made clear that on a personal level his previous educational opportunities and engagement with the United States have been something that he's appreciated and we both agreed that this meeting will be a very good basis on which to move forward in continuing very important and very close partnership between the United States and Georgia in the security and defense sphere," the U.S. ambassador said.