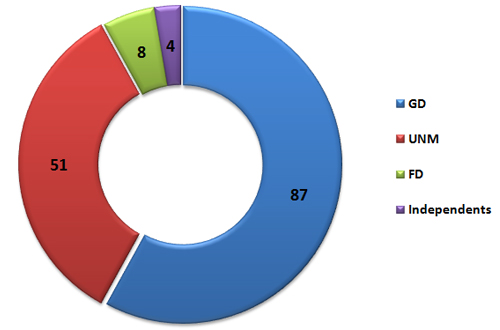 Distribution of seats in Georgia's 150-seat Parliament. GD won't be able to pass a constitutional amendment, requiring support of at least 113 votes, without the support of MPs from UNM parliamentary minority group.
Withdrawal of Irakli Alasania's Free Democrats (FD) party from the Georgian Dream (GD) ruling coalition has affected political configuration in the Parliament with emergence of one more opposition faction in the legislative body on the one hand and formal joining of dozen of lawmakers to the ranks of GD on the other.
Quitting of the GD parliamentary majority group by FD lawmakers last week was followed by party-switching by some lawmakers, bringing number of GD MPs at 75 – just below the threshold required for keeping a formal majority group in the 150-seat Parliament.
But 12 majoritarian lawmakers, who at the time of their election in October 2012 in single-mandate constituencies were with formerly ruling UNM party but quit it after the latter lost majority in Parliament, came to GD's rescue by joining it and giving the ruling coalition solid majority in the Parliament with total of 87 seats – up from 83 it had before GD became embroiled in the crisis that led to withdrawal of FD from the coalition.
Decision of 12 lawmakers to join GD parliamentary majority group did not come as a big surprise because they were usually supporting GD and government proposals in the parliament although not being formally part of the majority group.
6 of those 12 MPs finalized formal process of joining the GD parliamentary majority group on November 10. They will form a faction within the majority group under the name Independent Majoritarians-For Strong Regions, which will include MPs: Gocha Enukidze; Guram Misabishvili; Anzor Bolkvadze; Marika Verulashvili; Giorgi Peikrishvili, and Iasha Shervashidze.
Other 6 MPs, who announced about their decision to join GD majority group on November 10 but have yet to formally finalize the process, are: Kakha Okriashvili; Giorgi Gozalishvili; Goderdzi Bukia; Gogi Liparteliani; Enzel Mkoian; Sergo Khabuliani. Their faction will be part of the GD majority group. The faction is chaired by PM Okruashvili, a co-founder of Georgia's one of the largest pharmaceutical chains PSP.
After adding of these two factions, the GD parliamentary majority group will now be uniting total of seven factions. Parliamentary faction of the Georgian Dream-Democratic Georgia, party founded by ex-PM Bidzina Ivanishvili and now chaired by PM Irakli Garibashvili, is the largest one within the majority group with 45 lawmakers; GD-Republicans faction has 9 lawmakers; GD-Conservatives, GD-National Forum and GD-Industrialists factions have 6 members each. MP Gedevan Popkhadze, who quit FD to stay in GD is not joining any of the factions and will be an individual member of the majority group. Two other lawmakers, who have also quit FD have yet to decide whether they will join any of the seven factions or will follow MP Popkhadze's suit and be individual members of the majority group.
With its 87 MPs the GD, if acts unanimously, can easily pass any proposal in the Parliament, except of constitutional changes, which require support of at least 113 MPs. GD won't be able to pass a constitutional amendment without the support of lawmakers from UNM parliamentary minority group.
UNM remains the largest opposition group in the Parliament with 51 seats. UNM's parliamentary minority group unites three factions.
But UNM is no longer the only opposition group in the legislative body after FD quit GD coalition.
FD has 8 lawmakers. Four of them are holding senior parliamentary posts. MP Zurab Abashidze is one of the five vice-speakers of the Parliament; MP Viktor Dolidze chairs parliamentary committee for European integration; MP Davit Onoprishvili is chairman of the parliamentary committee for finance and budgetary issues, and MP Giorgi Tsagareishvili chairs parliamentary committee for environment protection and natural resources.
Remaining 4 seats in the Parliament are occupied by independent lawmakers. Three of them are former GD MPs: Giorgi Gachechiladze; Murman Dumbadze and Koba Davitashvili; this latter is only nominally a member of parliament and in fact he does not even participate in parliamentary work after announcing about quitting the politics last year. The fourth independent MP is Davit Bezhuashvili, a former UNM member.