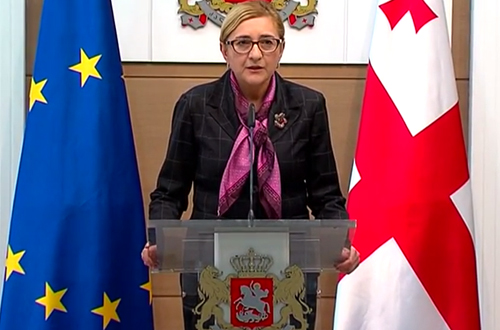 Tamar Beruchashvili speaks with journalists after being appointed as Georgia's new Foreign Minister, November 11, 2014
Tamar Beruchashvili has been appointed as new Foreign Minister, replacing Maia Panjikidze, who stepped down last week after Irakli Alasania was fired from defense minister's post.
Tamar Beruchashvili, 53, a career diplomat with over two decades of experience of working on European affairs, has served as Deputy Foreign Minister since April, 2013.
She was the State Minister for European and Euro-Atlantic Integration for nine months in 2004 and served as deputy state minister in 2004-2010.

"She knows exactly what has to be done in our foreign policy; she knows exactly those tasks and challenges our country is facing and knows how to efficiently continue the course of our government," PM Irakli Garibashvili said on November 11, when announcing about the new appointment.
"I want to reiterate that the European choice is the choice of the Georgian people and our unwavering will and Tamar Beruchashvili will significantly contribute to achieving of this goal," the PM said.
Beruchashvili said that it is an honor for her to serve "Georgia's European and Euro-Atlantic priorities, because I strongly believe that Georgia without European future is not Georgia's future."
When Maia Panjikidze announced about resignation from the Foreign Minister's post on November 5 after Alasania was sacked from the cabinet, her deputies, including Beruchashvili, followed suit, saying that Georgia's "European choice is under threat." But after a meeting with PM Garibashvili, she made U-turn and said that she decided to stay on.
Asked about it, Beruchashvili said on November 11 that her initial decision to step down was "an emotional misunderstanding" and was done more in "solidarity" to Panjikidze. She said that her "suspicions" about possible change of foreign policy course "lasted only for few hours" and added that the PM and other cabinet members "answered to my questions very clearly and unambiguously."
"The Prime Minister has noted for multiple times that Georgian [foreign policy] course is irreversible – this is our national and I would say existential choice. Not a single government will afford itself to divert from this course," the new Foreign Minister said.
"Georgian diplomacy will do its best to strengthen partnership and cooperation with all friends, to acquire new friends and strengthen Georgia's future and security," she said.
Like Panjikidze, Alexi Petriashvili also resigned from the post of the State Minister for European and Euro-Atlantic Integration last week after Alasania's dismissal.
The post still remains vacant and PM Garibashvili said that he would name the new state minister "in several days."