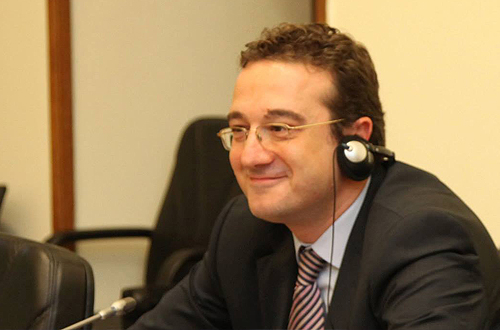 October 8, 2014 photo of then Georgia's ambassador to Greece, Davit Bakradze, who has been appointed as new state minister for Euro-Atlantic integration. Photo: Georgia's embassy in Greece
Georgia's ambassador to Greece, Davit Bakradze, has been appointed by PM Irakli Garibashvili as new State Minister for European and Euro-Atlantic Integration, replacing Alexi Petriashvili, who stepped down after his ally Irakli Alasania was sacked from Defense Minister's post on November 4.

Bakradze, who will turn 39 next month, has been in Georgia's diplomatic service since 2002, serving at the Georgian mission in the Geneva-based international organizations, as well as at Georgia's embassies in Switzerland and Finland before becoming Georgia's ambassador to Greece in early 2012.
He also served at the European affairs department of the Foreign Ministry in 2006-2008. Before joining the Foreign Ministry in 2002, he served for about five years at the National Security Council.