The ongoing debates over how to rein in security agencies' capabilities of unrestricted surveillance has led to competing bills in the Parliament, both tabled by lawmakers from the Georgian Dream parliamentary majority group, as deadline nears for passing a key regulation to tackle Interior Ministry's direct, unfettered access to telecom operators' networks.
The one bill, co-sponsored by chairperson of human rights committee MP Eka Beselia, her deputy MP Gedevan Popkhadze and chairman of defense and security committee MP Irakli Sesiashvili, is in line with PM Irakli Garibashvili's position, echoing Interior Ministry's insistence on retaining its capability of direct access to telecom operators' servers. But according to this bill, after obtaining court warrant, the Interior Ministry would also require authorization, including through technical means, from personal data protection inspector's office to carry out surveillance.
Another bill has been tabled by MP Vakhtang Khmaladze, chairman of the legal affairs committee, who is from the Republican Party, part of the GD parliamentary majority group.
According to this bill, the Interior Ministry should be deprived at all of its capability to have direct access to telecom operators' networks and it should be transferred to the Georgian National Communications Commission (GNCC), a regulatory body, which seems reluctant to assume this task.
Reiterating his position on the issue, PM Garibashvili spoke on November 20 strongly against of a proposal that would completely deprive the Interior Ministry of its direct access to telecom operators' networks.
He said that the bill co-sponsored by MPs Beselia, Sesiashvili and Popkhadze is "the optimal solution and I support it."
"We do not have a right for experimenting," Garibashvili said. "We will do what is already tested in other European states – I don't know why are we more democratic than France, Poland, the Czech Republic, Israel or the United States?" Garibashvili said.
Debates revolve around one main issue – who should have direct access, or 'key' as it has been informally called, to telecommunication service providers' networks.
The bill, backed by the PM, the Interior Ministry and part of the GD ruling coalition, introduces 'two-key system' in which one 'key' will remain in the Interior Ministry and another one will be at the Personal Data Protection Inspector's Office, whose authorities have been increased as a result of recent legislative amendments.
The idea of this proposal is that after obtaining court warrant, the Interior Ministry, although having direct access to telecom operators' servers, will not be able to independently launch interception and monitoring of communications without the green light from the Personal Data Protection Inspector. Under this system, the existence of two 'keys' does not mean that their holders would be able to separately gain access. It means that the Interior Ministry cannot alone gain access and the Personal Data Protection Inspector's Office would be needed to complement the first 'key' held by the ministry.
It will also require empowering personal data protection authority with relevant technical capabilities, which, according to the bill, should be done before March 1, 2015, and the bill itself, introducing 'two-key system', should also go into force from this date.
This bill is likely to attract support most of the lawmakers from the GD parliamentary majority.
Another bill, sponsored by Republican MP Vakhtang Khmaladze, envisages transfer of 'key' from the Interior Ministry to communications regulator, GNCC. One of the five members of GNCC, Kakhi Bekauri, said on November 20 that he does not think GNCC should be in charge of this issue.

Apart of his fellow Republican lawmakers, Khmaladze's bill is likely to be supported by MPs from Irakli Alasania's Free Democrats party, which has recently quit the GD ruling coalition.
Opposition lawmaker from UNM party, Pavle Kublashvili, said his party would support any model that envisages depriving the Interior Ministry of its direct access to telecom operators' networks. Such direct, unfettered access is available to the security agencies under the legislative amendments, which were passed by the previous Parliament in 2010.
There is also a third proposal pushed for by a group of civil society organizations, which have been campaigning for a long time already for reining in government's unrestricted surveillance capabilities. This proposal also envisages 'two-key system', but unlike the first bill, it offers to give one 'key' to telecom operators and another one to the judiciary; this latter, according to this proposal, will on the one hand decide whether to issue a warrant on security agencies' request for surveillance and in case of approval will also technically authorize telecom operators to carry out eavesdropping. Chairman of the Supreme Court, Kote Kublashvili, said on November 20 that he sees such model to be "difficult" to put in practice.
This latter proposal has almost no chance of being passed in the Parliament and the debates are likely to center on the two other bills.
'They Fight Against State Institutions'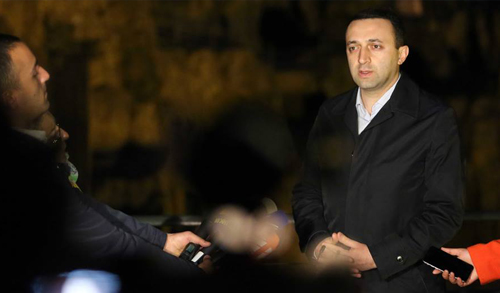 PM Irakli Garibashvili speaks with journalists about his position on surveillance regulation at the Vardzia cave monastery in southern Georgia, where he attended presentation of new lighting system at the site, which is one of the country's tourist attractions, November 20, 2014. Photo: PM's office.
PM Garibashvili reiterated on November 20 that he's strongly against of the proposal pushed for by the group of civil society organizations.
"That's disaster," he said of this proposal. "I am categorically against of this, like any normal, healthy, patriot person. This is planned by the UNM and they are using their NGOs for this."
"I want to put it bluntly – their main goal is to paralyze the Interior Ministry; they are fighting against the state institutions and you know very well in whose interest is to fight against the state institutions," PM Garibashvili said. "It should be our common goal – of the government, opposition – to strengthen the state, not to weaken it. As long as I am the Prime Minister of Georgia, I will not let anyone to carry out experiments on Georgia, that's ruled out. We will adopt the law, which fits to our reality."
Deputy Interior Minister, Levan Izoria, said on November 20 that the bill offered by MPs Beselia, Sesiashvili and Popkhadze was providing for proper mechanism of oversight without compromising security agencies' capabilities to counter threats to national security.
Depriving the Interior Ministry direct access to telecom operator's networks and giving it to other institutions, Izoria told Imedi TV, "will create problems to the national security."
"Moreover, it will be a problem for the Euro-Atlantic security as well, because by doing so we are weakening our counter-intelligence operations," the Deputy Interior Minister said.
December 1 is the deadline for the Parliament to pass this key part of surveillance regulation.
This summer the Parliament passed package of legislative amendments setting tighter rules for the law enforcement agencies to carry out surveillance activities, including through introduction of higher standards of justification required for security agencies to obtain court warrant on surveillance, as well as through increasing authorities of the personal data protection inspector.
But legislators left key issue, involving security agencies' unrestricted capabilities of direct access to telecom service providers' networks, unaddressed. November 1, 2014 was set as a deadline for adopting a law to address this long-standing issue.
But persisting disagreements over what kind of arrangement should be introduced made it impossible to table a bill by the deadline and the Parliament extended the deadline for four months.
This extension of the deadline, however, was vetoed by President Giorgi Margvelashvili, who instead offered tighter deadline till December 1, which the GD parliamentary majority had to accept.