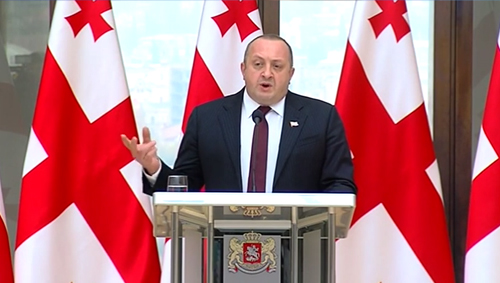 A video grab from President Giorgi Margvelashvili's televised address, announcing about his decision to veto government-backed surveillance bill on November 29, 2014.
President Giorgi Margvelashvili has vetoed controversial government-backed bill, which allows the Interior Ministry to retain its direct access to telecom operators' networks.
The bill was passed with 74 votes to 45 with its second reading and with 73 votes to 30 with its third and final reading on November 28.
The bill was opposed by lawmakers from the Republican Party, which is part of the GD ruling coalition; UNM parliamentary minority group and Free Democrats party, which has quit the GD ruling coalition earlier this month; at least two MPs from Georgian Dream-Democratic Georgia party, chaired by PM Garibashvili, were also against of the government-backed bill.
Parliamentary session will be convened on November 29 to discuss presidential veto and his objections to the bill.
At least 76 votes are required for the Parliament to override a presidential veto.
Not counting 9 lawmakers from the Republican Party, who were against of the government-backed bill, the GD parliamentary majority group has 78 seats in the 150-member parliament.
In a brief televised statement on Saturday noon, President Margvelashvili said that he decided to veto the bill because it fails to provide "right balance" between the security and human rights.
"First of all, I want to express my satisfaction with the process that was ongoing over this bill. There was an active involvement of political forces; there were debates and active participation of the civil society. It was what is called the Georgian democracy – all stakeholders were trying to make their own contribution to the establishment of better country," President Margvelashvili said.
As an alternative to the vetoed government-backed bill, President Margvelashvili has offered a scheme, which echoes the proposal of a group of civil society organizations, which have been campaigning for more than a year already for reining in security agencies' direct, unfettered access to telecom operators' networks.

According to this proposal the Interior Ministry should be deprived of capabilities of having this direct access, or as it has been informally dubbed – 'key'. In his objections, the President said that the 'key' should be at the court, which at the same time issues warrant for the law enforcement agencies allowing them lawful monitoring of communications. Office of the Personal Data Protection Inspector, under this model, will remain as an institution providing oversight, including through technical, electronic means, over the law enforcement agencies' surveillance activities.
"It means that surveillance will be carried out by the authorized bodies, and a permit for this – which is actually turning a 'key' for carrying out surveillance, will be made by court. Personal data protection inspector will provide an oversight over this process," Margvelashvili said.
"This is a model where the functions are distributed appropriately, and which provide for an adequate balance between protection of the human rights and the state interests," the President said.
"I hope that the Georgian Parliament will share my position," Margvelashvili added.
This is already second time when President Margvelashvili uses his veto power.
Previously he vetoed a bill, which was extending deadline for addressing the issue of Interior Ministry's direct access to telecom operators' networks for four months and instead offered the Parliament to set tighter deadline till December 1. At the time the Parliament had to accept president's proposal.