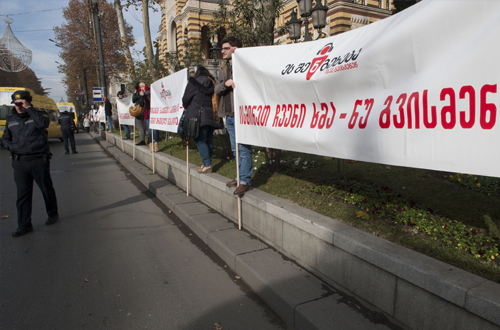 Activists hold a poster reading: "Heed our voice – Don't Eavesdrop on Us", during a protest rally on the Rustaveli Avenue in Tbilisi on December 19, 2014. Photo: Eana Korbezashvili/Civil.ge
Activists, holding posters speaking out against Interior Ministry's "illegal eavesdropping", lined up across central parts of Rustaveli Avenue in downtown Tbilisi on December 19, to protest against recent legislative amendments, which allowed security agencies to retain direct access to telecom operators' networks.
Activists were from a campaign group This Affects You–We Are Still Eavesdropped, which is made up of dozens of non-governmental organizations, and which was launched earlier this year with the purpose to rein in security agencies' direct, unfettered access to telecom operators' networks.
In late November Parliament passed government-backed surveillance bill allowing the Interior Ministry to retain its direct access to telecom operators servers, but at the same time giving the office of personal data protection inspector the right to electronically authorize law enforcement agencies' lawful interception of communications once there is a relevant court warrant. But, as opponents say, as long as the Interior Ministry keeps operating 'black box' spy devices in telecom operators' networks, it can easily circumvent personal data protection inspector and launch unlawful surveillance.
Activists were saying on December 19 that they will keep on campaigning through various forms, involving protest rallies, putting forth and lobbying for legislative amendments in the Parliament, and also trying to achieve overturning of controversial legislative regulations in Constitutional Court.
Eka Gigauri, head of the Tbilisi-based anti-corruption watchdog Transparency International Georgia, said that a lawsuit is being prepared claiming that legislation allowing security agencies to retain direct access to telecom operators' networks violates privacy rights. She said that lawsuit is expected to be filed with the Constitutional Court by mid-January.
President Giorgi Margvelashvili vetoed the controversial government-backed bill, but the Parliament overrode the veto on November 30.
Newly appointed deputy interior minister, Archil Talakvadze, said on December 19, that legislative amendments passed in November "sets much better standard."
"Dialogue to further improve the system will continue and we will definitely cooperate with the non-governmental organizations," he added.