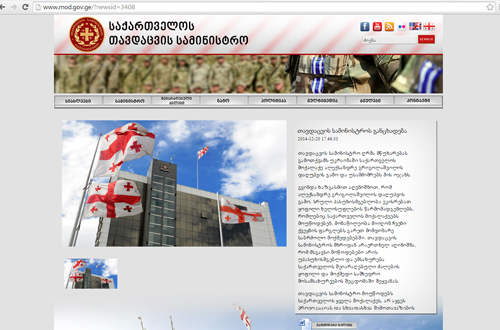 A screenshot of Georgian MoD's statement on its website. MoD removed the statement from its website on December 21, after it drew widespread condemnation.
After a statement by the Georgian Ministry of Defense on a death of Georgian citizen killed in a battle in eastern Ukraine drew widespread condemnation, PM Irakli Garibashvili had to also react saying such a statement was a "mistake", but also added there was no need to "dramatize".
Alexandre Grigolashvili, who fought on the Ukrainian side in east of the country, was killed in the town of Shchastya in the Luhansk region overnight on December 19. His body was flown back to Georgia on Sunday after a public service in his honor was held in the center of Kiev on December 20.
In a written statement on December 20 the MoD expressed condolences over death of a Georgian citizen and said that "representatives of former authorities" of Georgia are to be blamed for his death, because they are encouraging Georgians to fight in Ukraine. MoD also called "on the citizens not to yield to provocation and not to endanger own lives in exchange of various offers."
The statement has been condemned as "shameful" not only by opposition politicians, but also by some members of the Georgian Dream ruling coalition.
A group of protesters gathered outside the Georgian Ministry of Defense on Sunday afternoon, calling for resignation of Defense Minister Mindia Janelidze; some protesters were waving Georgian and Ukrainian flags and some were holding posters reading: "No to collaboration with Putin".
"I can't recall any defense minister of Georgia since its independence, who would have signed under such unscrupulous statement," UNM MP Giorgi Gabashvili said on December 20.
Another senior UNM figure, Giga Bokeria, said: "I am ashamed that Georgia has such a defense minister, or to be more precise – we now know for sure that we do not have our country's defense minister as he expresses interests of other country", referring to Russia.
"This [statement] unwittingly insults fallen Georgian fighter and those people who are fighting in Ukraine against common enemy of Georgia and Ukraine," GD MP Davit Berdzenishvili of the Republican Party said. "There should not have been political aspects in MoD's statement."
GD MP Tina Khidasheli, who is also from the Republican Party, tweeted:
A member of Tbilisi City Council (Sakrebulo), Davit Zurabishvili, who is also from the Republican Party, condemned the statement as "shameful, immoral and anti-state."
"It is incomprehensible for me why the MoD released such a political statement. I regret they are my [political] teammates," GD MP Eliso Chapidze of Georgian Dream-Democratic Georgia party, said.
Irakli Alasania, ex-defense minister and leader of Free Democrats opposition party, said: "Any self-respecting state should mourn in dignity for its heroes fallen in fight against enemy no matter where they have died. We should never again allow attempts of underestimating heroism and devotion."
Asked about MoD's statement, PM Irakli Garibashvili told journalists on December 21: "I did not like that statement either and I think that the Ministry of Defense should not have made statement of political content. I spoke to the Minister and he too regrets very much."
But he also added: "I want to ask everyone not to dramatize it. Anyone can make a mistake and no one is ensured from making a mistake. Mistake has to be acknowledged and apologized for. I think that the Minister will do it."
The PM also expressed condolences over death of Alexandre Grigolashvili and said: "I pay tribute to his memory."
About couple of hours after PM's remarks, MoD removed the statement from its website.