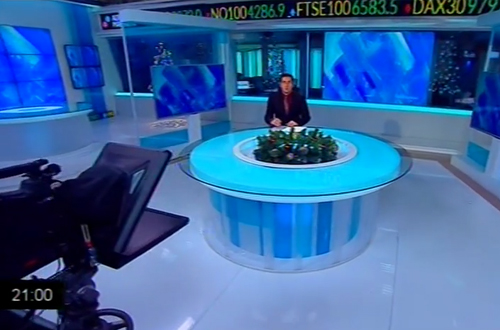 A screengrab of Maestro TV's news program at 9pm on December 23, 2014.
A large group of journalists and producers quit Tbilisi-based Maestro TV on December 22 after its senior manager and journalist in charge of newsroom was sacked following disagreements over television channel's intention to bring government's communications consultant on board.
Maestro TV's former employees also say their fears over possible meddling in editorial policy increased after TV station's financial backer allegedly said about the need to carry out "pro-Georgian ideology" – a term, they say, implying turning the channel into a mouthpiece of anti-Western sentiments.
Nino Zhizhilashvili, a long-time journalist, was deputy director of Maestro TV overseeing political and news programs and also was an anchor of TV station's flagship news program at 9pm.
Zhizhilashvili says that she was going to quit in the beginning of next year after learning about the decision to scrap her program and to replace it with a new one hosted by Koka Kandiashvili, who is now communications consultant for the government.
Although she was offered to host a separate weekly, hour-long talk-show, Zhizhilashvili says, she declined the proposal as the new scheme of management of the channel's news and political programs implied that she would not have had enough editorial independence.
On December 21 director of TV channel, Baia Gadabadze, met about 50 employees of the station, mostly those working on political and news programs.
According to those journalists who quit the station, the director informed them about the planned changes, citing the need to address TV channels woes involving the fact that Maestro TV was trailing far behind in TV ratings in a stiff competition with larger broadcasters. According to their account of the meeting, the director was also implying that Kandiashvili had already been involved in the management, already having a say in planning of new programming.
Shortly after that meeting, during which, according to this account, the director had to face grilling from many journalists about possible loss of editorial independence, Zhizhilashvili was on phone with Kote Gogelia, financial backer of the TV channel, who told her that she was fired.
That was followed by an announcement of up to twenty journalists and producers about quitting the TV station in protest; host of a popular political comedy show on Maestro TV also followed suit.
Gogelia is a wealthy Georgian businessman with businesses in Russia. He took over 25% of Maestro TV's shares in spring 2011; shares are registered in ownership of Gogelia's wife Maka Asatiani. Although rest of the shares is distributed among five other co-owners, Gogelia, as a main financial backer of the TV channel, is actually the main decision-maker on key issues, former and current employees say.
An immediate reaction from Maestro TV's management to Zhizhilashvili's public announcement that she was fired after having disagreements over Kandiashvili's involvement in the management and scrapping of her program, was to deny that a decision was made to bring in Kandiashvili. In a statement on December 22 Maestro TV acknowledged considering launch of a new program hosted by Kandiashvili, but also added that it was "not yet finally decided." Although Kandiashvili said that he was holding consultations about possible program at Maestro TV since September, he also denied that that the decision had already been made.
But Maestro TV's leaked correspondence dated with December 11 suggested that bringing in Kandiashvili had already been a done deal.
Those journalists who opted to stay on in Maestro TV say that they have not yet experienced any pressure either from the management or from owners of TV channel, but would also quit if they see any tangible signs of meddling in the editorial policy.
Another aspect of the controversy is related to allegations that the TV channel may try to pursue a so called "pro-Georgian ideology." Zhizhilashvili said that she was told by Gogelia about the need to make Maestro TV carrier of "ideology", in particular the "pro-Georgian" one.
Speaking at a news conference on December 23, convened by several those former journalists who quit Maestro TV, television channels former head of newsroom Sopo Kvintradze said it was in itself already a problem when someone tries to mix "ideology" and news broadcasting.
"Those who say that they are 'pro-Georgian', they in fact imply that the West is bad and Russia is good – that's the ideology that was meant," she said.
Speaking at the same news conference, Zhizhilashvili said that she only decided to make the recent controversy public because she believes that these developments may have much larger implications. She said that she had been enjoying absolute editorial freedom while working for Maestro TV, but the recent developments were "sign of a very bad perspective not only just for Maestro TV, but for the entire media landscape and the country."
Maestro TV's director, Baia Gadabadze, has strongly denied outside involvement in the editorial policy, as well as allegations that the TV channel may possibly take a political line. She also said that time will show that there will be full editorial independence on Maestro TV. Hit by mass departure of journalists and producers, Maestro TV has been preoccupied by recruiting new ones to fill the gap.
In October, 2014 Maestro TV was also quit by two co-hosts of one of the channel's talk shows, Diana Trapaidze and Teona Gegelia. Before that the TV station was quit by a host of news program and a weekly analytical program, Vakho Sanaia. The latter spoke out publicly for the first time about the reasons of his decision after the recent controversy over Maestro TV. In a Facebook post on December 22, Sanaia claimed that after the government criticized one of his programs in May 2014, Maestro TV's director told him that his "programs may lead to Maestro TV's senior confrontation with the authorities and create problems." After that, Sanaia says, the management started to gradually create logistical problems for his programs, which eventually forced him to quit.